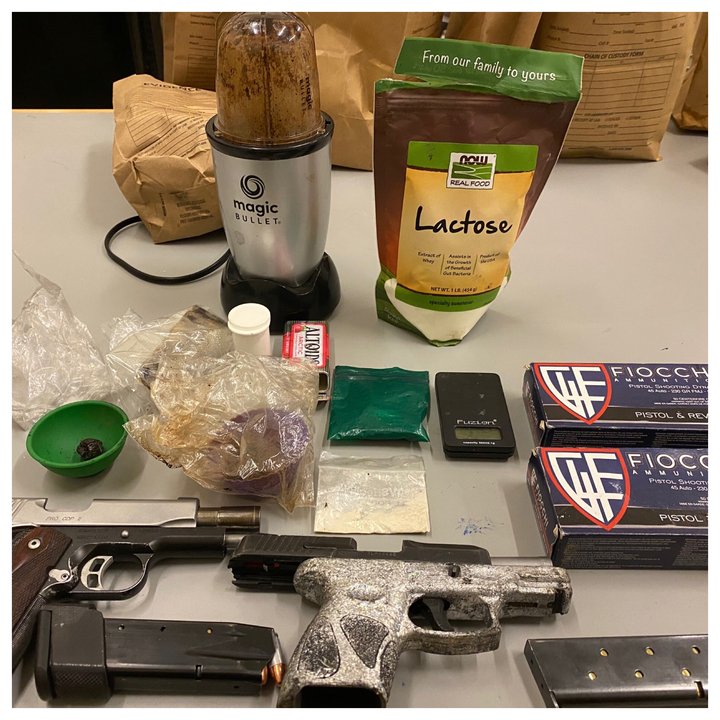 Humboldt County Drug Task Force press release:
On Friday February 5th, 2021, special agents with the Humboldt County Drug Task Force (HCDTF) served a search warrant on a residence in the 300 block of Fernbridge Dr. in Fernbridge. Agents performed knock and notice and then had to force entry into the residence. As agents entered the house they located the female resident, Leslie Ann Crowley, AKA: Leslie Baum, (43 years old), flushing evidence down the toilet. Crowley was successful in flushing items before agents were able to detain her. The male resident, Leonard Jumping Eagle Rodriguez (40 years old), arrived on scene during the search warrant and was detained.

Agents conducted a search of the residence and located the following evidence. There were two loaded semi-auto handguns in a small safe. One of the guns had been reported stolen to the Eureka Police Department in August of 2015 during the burglary of Pacific Outfitters.


Agents located heroin, methamphetamine, and MDMA inside the house as well as a digital scale and packaging. Agents also located a blender, lactose, and evidence that a heroin cutting operation was taking place inside the residence. Agents believe Crowley was able to flush a large quantity of heroin based off the other evidence located. Agents seized approx. $6,500 in US currency inside the house pending an asset forfeiture investigation.


Crowley and Rodriguez were transported to the Humboldt County Jail where they were booked for the following charges:

• H&S 11351​​Possession of controlled substances for sale

• H&S 11370.1​​Possession of controlled substances while armed

• H&S 11366.5​​Maintaining or operating a drug house

Rodriguez was also charged for the following:

• PC 29800(a)(1) ​Felon in possession of a firearm

Anyone with information related to this investigation or other narcotics related crimes are encouraged to call the Humboldt County Drug Task Force at 707-267-9976.