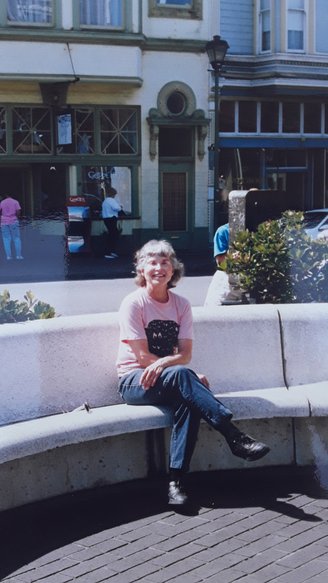 Caledonia Eleanor Henshaw lived 91 years. She was born November 24, 1929 and passed away on January 11, 2021.

My mother, Ellie Henshaw, was an unpredictable woman. Her mood could turn suddenly, and to this day, I can't say I truly understood the depth of how things effected her. But throughout her life she was unwavering in her generosity, her insistence on justice, and her deep love for nature and animals.
As a young woman, Ellie was trained as a ballet dancer, and had hoped to pursue a career in dancing, but marriage and children interrupted. She never stopped dancing though, and as a child, I would watch her dancing almost every night in the living room, delighting in the sense of freedom it gave her.
In the late 1960s, Ellie Henshaw was a Civil Rights activist, and she taught me at a young age about inequalities and to stand against them. She was fierce against injustice, inequality or, any kind of cruelty toward human or animal, and I watched her on several occasions move the earth with her wrath against the perpetrator. She was a small woman, but utterly fearless.
Freedom and independence were deep values for her and she told me when she was a teenager, she saved up her money so she could buy a used car because she knew the car would give her freedom. She spent hours driving up into the mountains, and one of her favorite places to go was Mt. Tamalpais, near where she grew up in Marin County. This compelling need for her to be alone out in nature is what brought her to the Humboldt County area in 1972. She fell in love with the area, and decided she would finish her education at Humboldt State University. She received her Master's degree in Psychology and Sociology, and worked for many years at HCAR with the Developmentally Disabled until she was 82 years old. She was tireless! She adored her job, and genuinely loved the clients at HCAR, and some of them I know would often call her at home.
My mother was the kind of woman who gave what she could to anyone, and would stop anywhere and anytime to help someone. As a child, I couldn't fully appreciate this at all. It was only when I grew up, that I could recognize that she was genuinely endlessly generous. And she had the "old world manners" I don't often come across anymore. The last time I was with her, we were out buying her a new pair of shoes. She insisted we tip the sales clerk for her time and trouble. The world could certainly use more of her generosity and great sense of service now. I hope I learned well from her.
###
The obituary above was submitted on behalf of Ellie Henshaw's loved ones. The Lost Coast Outpost runs obituaries of Humboldt County residents at no charge. See guidelines here.