If you're one of Humboldt's many trail enthusiasts, then you will be excited to know that the City of Eureka is hosting a public meeting tonight to provide the community with an update on the status of the proposed Bay to Zoo Trail!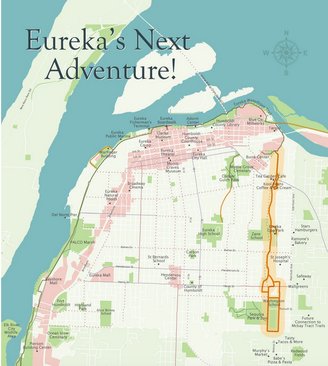 Like the name suggests, the over two-mile long trail would connect the Waterfront Trail near the Humboldt Bay to the Sequoia Park Zoo. Eventually, the City hopes to connect this trail to network of trials running through the entire city of Eureka. Neat!
The other cool thing about the proposed trail is that it would connect to Zane Middle School and Washington Elementary, providing students with a safe route for walking to school. The trail would provide an alternative route for accessing St. Joseph's Hospital.
"The Bay to Zoo Trail closes a gap in the transportation network of Eureka," The City of Eureka states on its website. "The City lacks safe routes to school options and safe routes for residents to access essential community destinations. The Bay to Zoo Trail will construct over two miles of Class I bike path and non-motorized facilities in Eureka, connecting low income residential areas to schools, community services, the largest employer in Eureka, an existing bike path, and to County bike routes out of the area."
For more information on the project, check out the public meeting — held via Zoom — tonight at 6:00 p.m. You can access the meeting link here.