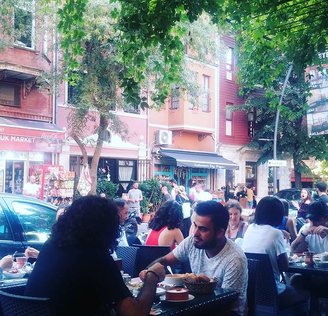 Kuzguncuk is a pleasant, tree-lined neighborhood that brushes along the shores of the city's Asian side, the Martyrs' Bridge in the backdrop as you approach on the coastal sidewalk.
In years' past, my wife Ozge and I always liked Kuzguncuk, first because it's easy to walk there from our neighborhood, and also because its bohème (or nearly bohème , if only it had a few more bars) aesthetic is always appealing. The narrow streets are cobbled, always shaded and cool even on the hottest summer day, and the sidewalks are filled with people sitting outside at small tables, sipping tea or coffee, having Turkish kavahlti at the many cafes, or kebab at Metet, or one of the many rich desserts served at the well-known places like Dilim. Browsing the pictures in the small galleries or the bookshops. Retro-chic hideaway from all the urban clamor.
Nowadays, that all has changed. The specter of the pandemic has crept here, as it has everywhere. With the restrictions, a good portion of the visible charms of the neighborhood have vanished. The sidewalks are empty, no tables. The trees, stripped of their leaves, present a stark beauty, the thin lines of the branches as noticeable as the absence of the colorful crowds. Many of the shops are closed, and a few shuttered, with "For Sale" or "Rent" signs in the windows. Kuzgun means "raven" in Turkish, and we can surmise that if the area's namesake were observing from some tree nearby, it may well be echoing Poe's famous forlorn decree: Nevermore. Fittingly, outside one of the closed cafes hangs a poster of the French New Wave classic, "Breathless," showing the famous actors, only someone has thoughtfully taped Covid masks to their faces.
Not all is lost. The bakeries we like are still open, serving fresh pide bread and the baguettes we like to take home for sandwiches; Dilim's is still open, with its colorful array of cakes and puddings on display. The small markets, with the winter sunlight presenting a bright still life of the vegetables and fruits on offer, still have the look of bustle. The butcher we like can be seen inside packaging minced meat or chopping a lamb leg with his mighty cleaver. The galleries are open.
The past week it snowed a few days, which we badly needed (the country faces drought conditions this year). But on Friday, it felt like a false spring, which is why we walked to Kuzguncuk. With our son Leo in the stroller, looking curiously at the passing cars and buses, and at the happenings along the sidewalk, we felt good to be out of the house.
One of the coffee shops was open, so we stopped and grabbed an Americano and tea for my wife. People were out, masked and still bundled up for winter, and they were mostly families, like us. At the park, lots of children were out playing in the green grass, the snow all melted in the becoming sunlight. A boy and girl, most likely siblings, were engaged in mortal combat with a pair of swords, while other children had fashioned more primitive swords out of the branches of nearby trees. Watching them reminded me of my brother and friends.
"We used to play war in the woods," I mused to Ozge. "God, we'd play for hours."
Ozge was busy with Leo. She took him out of the stroller and, holding his hands, let him practice walking. Four or five dogs, including one splendid looking golden retriever, were prancing and playing with each other nearby, and Leo regarded them with a mixture of fear and puzzlement. He looked at the other children with the same feelings. They were all a bit older, except for one or two in tow of their mothers who looked almost the same age. It occurred to me that Leo spends all his time with us, and perhaps he thought it strange that there were other "little people" besides himself.
"I wonder if he'll be shy when he gets older," I said. "I mean, because of the pandemic he's never able to be around other kids."
My wife didn't say anything, but she was listening. She walked with Leo to the far end of the park, letting him look around at the other kids. Two older girls were batting a volleyball back and forth, and it looked odd with them wearing their masks, but they seemed to be having fun. As I sipped my coffee, I sat on the bench, while other parents also sat and talked while their children played. I overheard two women gossiping about the current US political situation in Turkish, but I didn't catch much of what they were saying, other than the words "Trump" and "Midterms."
It has been nearly a year since the pandemic entered our lives. None of us ever imagined things being this way. I thought of a restaurant we like in the neighborhood. It's a simple, unpretentious local place that serves good, cheap (well, it used to be anyway) Turkish food and there is a wonderful rooftop terrace where you can drink your beer or wine after dinner and look out at the other rooftops in the neighborhood and even out at the Bosphorus and the boats passing, on their way up to the Black Sea or south to the Sea of Marmara. We used to go there regularly in the summertime, and I hoped that if things get better by summer we can go there again, if it is still open. We could even have dinner with Omer and Fatma, or our other friends, who we haven't seen in nearly a year.
Later, we walked back through the neighborhood, and we stopped at a corner grocery store that has a really good deli, and where you can find things like Jif peanut butter and quality imported beers. Leo was behaving beautifully, just sitting peacefully in the stroller and taking in the scene casually beneath his wool tossel cap. Ozge was pointing out passing buses and shouting "Toot! Toot!" to keep him awake and interested, so that he would not waste his afternoon nap in the stroller, but rather have it at home so we could enjoy an hour or so to ourselves.
I thought about dinner as we walked back along the coastal road. The Bosphorus was a deep blue in the sunlight, and across the way the skyscrapers looked very sharp and clear, the Galata Tower looking like the tip of a fountain pen.
"Hey, it's Friday," I said. "Maybe for dinner we could order from the Kuzuncuk Steak House." They do delivery.
"Maybe," my wife said. She was busy singing "Wheels on the Bus" in Turkish to Leo, and Leo was still awake and not nearly sleepy. It felt really good to be outside. I thought about Kuzguncuk as we continued walking. In many cultures, the raven is a symbol of death or ill omens, and in other cultures the raven is said to foretell the future. I prefer this raven to the former, and later I thought about how nothing lasts forever, not even the pandemic. Never say, "Nevermore." At some point Kuzguncuk will return to how it was, and all the people will be out sitting at the tables, and everywhere will be full of life again. At home, we ended up ordering Iskender kebab from Metet's, and settled in for another quiet Friday evening together.
###
James Tressler, a former Lost Coast resident, is a writer and teacher.