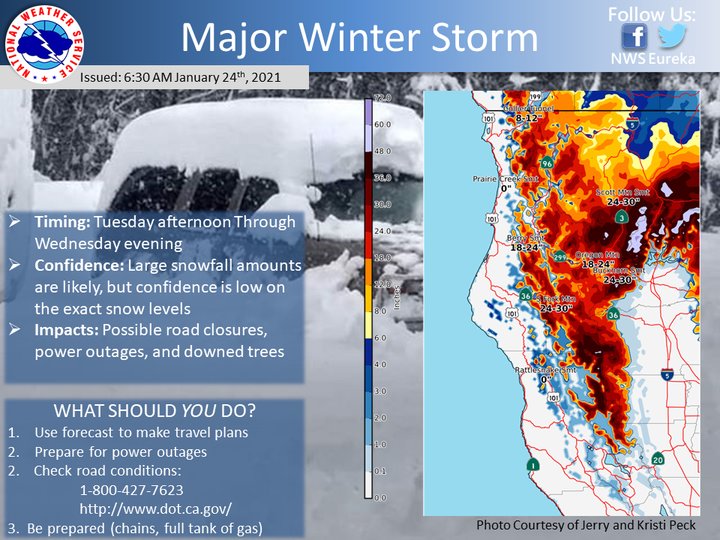 A major winter storm will hit Northwest California between Tuesday afternoon and Wednesday evening, dropping 18 to 30 inches of snow along local highways at elevations as low as 2,500 feet.
Eureka's National Weather Service office reports that 18 to 24 inches of snow is expected along Highway 299 at Berry Summit, and 24 to 30 inches of snow is expected along Highway 36 near the Humboldt-Trinity border.
"Large snowfall amounts are likely but confidence is low on the exact snow levels," the NWS stated. "Consider changing travel plans or taking an alternate route. Major impacts are possible with this storm due to utility outages, downed trees, and road closures."

Rain and 23-mph winds will be possible in coastal areas of Humboldt County between Monday and Thursday.
Forecasted rainfall for Tuesday and Wednesday.
A wind advisory has been issued for the North Coast today. Gusts between 27 and 46 mph are forecast to impact the area starting this afternoon. A smattering of rain and snow is also in today's forecast.
"Most areas will see around a quarter to half an inch of rain, while elevations above 2500 feet in the mountains of Del Norte and Humboldt Counties see 1 to 3 inches of snow," the NWS stated. "Gusty north winds ranging from 25 to 35 mph are expected for the coastal plains, with occasional gusts as high as 45 mph early Sunday afternoon."
Light hail and thunderstorms are also possible in the greater Humboldt Bay area tonight.