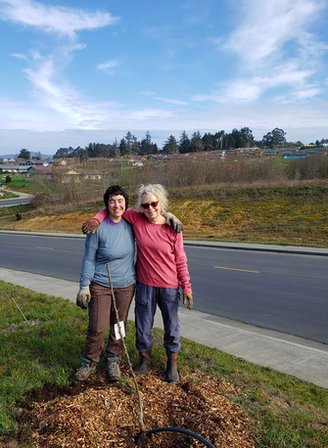 If you have space in your yard, but maybe don't have the time, money or motivation to plant your own fruit trees, Cooperation Humboldt can help you out by planting one (or several) for you! You only need to do two things in return: take care of the trees and promise to share the bounty with your community.
"Part of what we're trying to do is shift our culture around resource and food sharing," Cooperation Humboldt Food Team Coordinator Tamara McFarland told the Outpost in a recent phone interview. "We're trying to shift people's understanding of food from a commodity to a fundamental human right."

The trees — which include a variety of apple, pear, asian pear and plum — are available for planting at any publicly accessible location, including private front yards, community centers, churches or schools. Cooperation Humboldt will take care of transporting and planting the trees, and recipients are responsible for watering and care.

Participants also have to sign an agreement saying that when the tree starts bearing fruit, they will share that fruit with anyone who wants some. Once the tree is fruiting — which will likely take about five years, McFarland said — Cooperation Humboldt will provide a sign to let folks know that they are welcome to pick the fruit.

Planting community fruit trees is just one of the nonprofit's many programs, including little free pantries and free mini-gardens, that focus on promoting a solidarity economy — an economic system that aims to meet everyone's needs without a focus on financial profit. This is the third year Cooperation Humboldt is planting free fruit trees, with 23 trees planted in 2019 and 57 planted last year. "This year we're hoping for 100," McFarland said.

So far the trees have been planted primarily around Arcata, Eureka and McKinleyville, but McFarland said that volunteers can come to other parts of Humboldt, as long as the location is somewhat close to town, since the idea is for the fruit to be accessible to passersby. (Sorry, no trips down mile-long driveways out in the sticks.) In the future, however, McFarland hopes to be able to expand the program to include the more remote parts of Humboldt.
Map of all the current fruit tree locations | From Cooperation Humboldt's website

This year Cooperation Humboldt is also partnering with Two Feathers Native American Family Services, providing 20 fruit trees for the organization to make available to tribal communities.

Cooperation Humboldt already planted seven trees last weekend and will continue to plant through April. If you or your organization are interested in participating, you can fill out this online form and a volunteer will contact you. Cooperation Humboldt will then work with you to decide what type of tree(s) are best for you and to identify the best location for planting.

McFarland hopes to see a lot of participation in the program this year and says that her goal is to increase food security, promote environmental sustainability and help beautify the area by filling our local cities with edible plants.

"The goal is really just to flood the community with resources that can be available anytime," McFarland told the Outpost. "We want to basically turn this region back into a life-sustaining food forest. We sometimes say 'we're recreating a food forest one yard at a time.'"