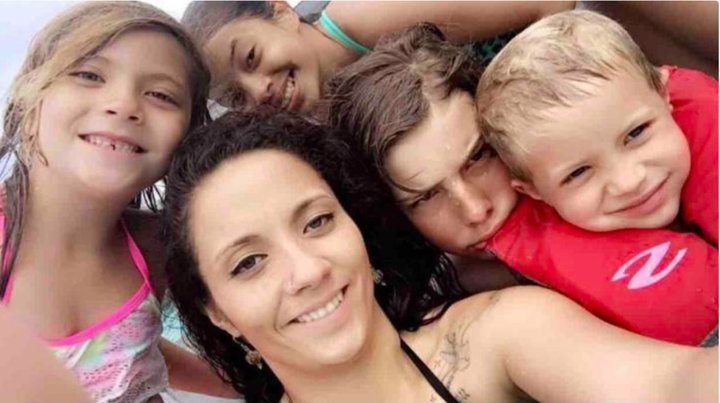 ###
A 35-year-old mother of five is recovering from serious injuries and a surgery in which one of her feet was amputated after she was viciously attacked by two pit bulls while trying to help a neighbor Thursday afternoon in Myers Flat.
Candis Danielson had gone over to her neighbor's house to help him with his generator during a power outage when the neighbor's dogs got out of his trailer and attacked her, according to Aaron Merriman, an emergency medical services worker who responded to the scene.
The dogs had dragged Danielson under the trailer and inflicted extensive damage to her legs and feet, Merriman said.
"She was in extreme shock but would respond to her name," Merriman said.
According to to a press release from the Humboldt County Sheriff's Office, responding deputies performed life-saving efforts on Danielson, who was transported to St. Joseph Hospital and is expected to survive.
Another victim also suffered bite injuries and was treated at a nearby fire station, the sheriff's office said.
Danielson's sister, Shiann Davis, set up a GoFundMe campaign to raise money for Danielson's medical bills and any potential legal fees. In the initial post, which went up on Thursday evening, Davis wrote that her sister was undergoing surgery to have one leg amputated and may lose the other leg as well. However, in a Friday morning update, Davis wrote that surgeons had only amputated one foot, "and they are bringing in specialists to see what they may be able to save of the rest of her leg."
Davis released the following statement to the Outpost Friday morning:
It's taking a minute just to get over the initial shock of everything. We're just trying to remind ourselves Candis is in good hands and being taken care of by proper specialists, her pain is being managed, and most importantly she's alive.

It's a strange world now. We can't be there in the hospital with her and even her kids may not be able to see her for probably a month while she's going through this because of COVID, but the precaution makes sense for her safety and the safety of others.

If you know her, you also know how strong she is and how much of a fighter she is. If you don't know her, take my word that you'd be lucky to cross paths one day. We're grateful to everyone that has offered support to our family during this time. Thank you so much for your generosity, for sharing, and for reaching out.
Davis's boyfriend, Myles Cochrane (who formerly worked as program director at KSLG FM, owned by the Outpost's parent company, Lost Coast Communication, Inc.), defended pit bulls generally but said these particular dogs were dangerous:
Dogs are one of the greatest gifts to humanity. Regardless of breed or size, if they're raised right they will in all likelihood succeed. It's unfathomable some humans have the luxury of being called a "gentle giant" yet many qualifying pit bulls don't get the same privilege. That said, these particular dogs should never have had this opportunity at attempted murder.
Humboldt County Sheriff's Office Public Information Specialist Samantha Karges told the Outpost that the dogs will be required to undergo a vicious dog hearing.
"If at that hearing the dogs are determined to be potentially dangerous or vicious dogs, and that the release of the dogs would create a significant threat to the public health, safety, and welfare, then the dogs could be put down. The process is outlined in County Code § 547."
The dogs' owner has not been charged with any crimes — no charges have been requested, Karges said, adding that the incident is still under investigation.
###
Here's the press release from the Humboldt County Sheriff's Office:
On Jan. 28, 2021, at about 12:45 p.m., Humboldt County Sheriff's deputies were dispatched to a residence on the 200 block of Myers Avenue in Myers Flat for the report of a dog attack.

According to the reporting party, the 35-year-old female victim had arrived at the residence to perform housekeeping services. Upon arrival, the victim was reportedly attacked by two pit bulls, which were pets that lived at the residence.

When deputies arrived on scene, the dogs had already been detained in a vehicle by their owner. Deputies located the victim with serious and extensive injuries related to the attack. Deputies performed life-saving efforts on the victim. The victim was transported to a local hospital for treatment and is expected to survive.

While investigating, deputies learned of a second victim who was being treated for bite-related injuries at a fire station nearby. Upon contacting the male victim, deputies learned that the man had stopped at the property to assist the female victim and dog owner. However, while attempting to assist, the man sustained moderate injuries from the dogs. The man left the property prior to deputy arrival to seek medical treatment.

Animal Control Officers took custody of the dogs and they were transported to the Humboldt County Animal Shelter where they are being held pursuant to Humboldt County Code § 542-13 and § 547-14.