PREVIOUSLY:
###
Through partnerships between local tribes, Indigenous-led organizations and school districts, curriculum with more representation of American Indian history and culture is on its way to Humboldt's schools. Leaders of these efforts met last week during a virtual roundtable, where speakers discussed updates on upcoming state and local initiatives aimed to better support Native students, and former students shared their experiences of going through Humboldt's K-12 system as Native kids.
The meeting was the second virtual discussion addressing the ACLU Foundation of Northern California's recent "failing grade" report, which found that Native students in Humboldt face harsher discipline, higher expulsion and suspension rates, and wider achievement gaps in educational outcomes than their non-Native peers. The report also highlighted a lack of health professional presence in local schools.
An area in need of improvement discussed at the first roundtable in December was Native American representation in curricula. "Culturally relevant curriculum that includes Indigenous worldviews" is "sorely lacking" in local education systems, Tedde Simon, Indigenous Justice Program Manager at the ACLU of Northern California, said with the release of the report. At the second discussion last week, Yurok Tribe Education Director and California State Board of Education member Jim McQuillen spoke about statewide initiatives taking place to boost American Indian representation in education.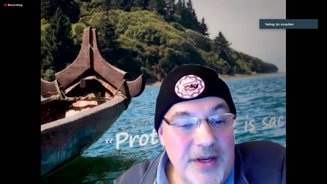 "It's a time when we need to really have our kids learn about each other's backgrounds and cultures. It's desperately needed," McQuillen said.
Upcoming in California curriculum is an ethnic studies program, which will eventually become a graduation requirement and will primarily focus on American Indian, Asian American, African American and Latino studies. McQuillen described some model lessons outlined in the American Indian studies curriculum, such as exploring the mascot controversy or expanding student understanding of tribal relationships with land. Integrating Indigenous land acknowledgement is a practice currently happening in classrooms elsewhere; it's become policy to acknowledge land daily in some Canadian schools, McQuillen said. Another suggested lesson explores debates surrounding sacred site preservation, focusing on the Ohlone people of the Bay Area and traditional shell mounds that have existed there for centuries.
McQuillen also discussed a recent executive order signed by Governor Gavin Newsom, creating the Truth and Healing Council of tribal leaders, who will document the truthful history between the state of California and tribes. "That's a wonderful potential relationship for curriculum for our students also," McQuillen said.
Locally, the Yurok Tribe recently received a grant called "Accessing Choices in Education" from the US Department of Education. The tribe is calling the program created with this grant the "Native Educational Choices and Empowerment Program." In partnership with local districts, the grant will allow the Yurok Tribe to help develop curriculum and resources for American Indian students, whatever those resources may be. "Sometimes they need tutoring, sometimes they need counseling, sometimes they need transportation," McQuillen said.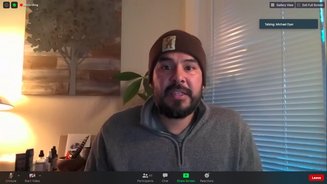 Goals for the grant include identifying existing services that serve Native students well within school districts, as well as looking into creating new services that might help, said Michael Dyer, who is managing the project. Energy from the grant will also go toward curriculum, with aim to implement "culturally sustaining, revitalizing pedagogies within the schools."
The main goal is "empowering students," Dyer said. "We want to make sure our students are comfortable in school, [and that] there's a safe space for Native students in school." Following a year-long planning process, implementation will begin next school year.
The Wiyot Tribe is also working on ways to help develop a curriculum of local American Indian history and culture, for educational uses in the classroom and also at their soon-to-be-opened cultural center in Old Town Eureka. They've assembled a curriculum development committee that meets monthly, Marnie Atkins, cultural center manager, explained.
"I personally see the act of even putting together a cultural center is about the continuance and survivance of Native people," Atkins said. It is "a way for all of us to come together no matter your heritage, your race your ethnicity — but to acknowledge that on these lands there was a lot of genocide, and a lot of violence. But we can, you know, overcome this, if we work together as a community to stop that kind of negative behavior and rhetoric."
Darrell Sherman, who is a Bear River Band of Rohnerville Rancheria councilmember, spoke at the forum to share his experience as a Native student who has been through local education systems. Noting that his overall experience at Loleta Elementary school was positive, the impacts of racism, from actions to comments, are lasting and damaging, Sherman said. "If we were able to change, that would be one of the first places — to start, you know, just stop with the innuendo, stop with the soft racist jokes like it's not going to hurt anybody or, we're just going to laugh it off. It's not funny."
Building youth up by expressing positive, encouraging expectations for their success might help students succeed in local schools and in higher education, Sherman said. "Countless times I've heard people like making a big deal about high school graduation — which it is a big deal — but then they'll say 'Eell, we didn't expect you to get one,'" he said.
Humboldt State student and future teacher Clarrissa Readen, who is of Yurok and Karuk decent, shared her experiences at the Weitchpec Elementary School-Yurok Magnet Program (of the Klamath-Trinity Joint Unified School District), where Yurok culture and language are woven into curricula. She later attended Orleans Elementary, also a part of KTJUSD, where students could participate in cultural activities and weekly language lessons. The school had a yearly Indian Day, dedicated to learning dances, traditional card games, and how to make acorn soup.
"I wouldn't be who I am without the cultural knowledge taught to me during school," Readen said. "Students of color distance themselves from school if they don't see faces, stories and cultures of their own in the curriculum. And that's why we have such low rates of graduation, and people in higher education."
The opportunities she had can be implemented elsewhere, Readen said. "I got lucky where I go to school but every school can change and add these things to help their Native students."