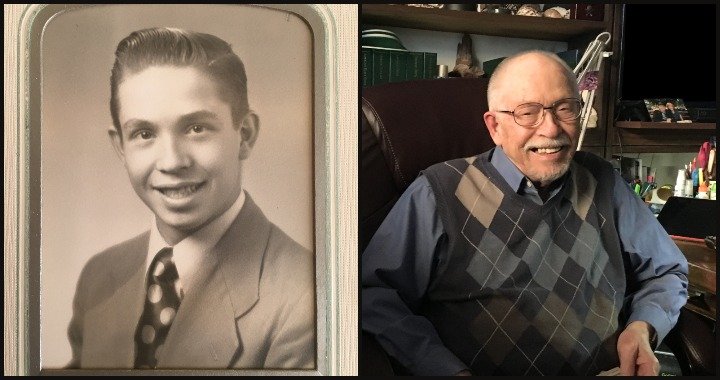 Donald Carl Podratz, 86, died December 26, 2020 at St. Joseph Hospital in Eureka.

Don was born on April 7, 1934 in Brainerd, Minnesota to Josephine and Martin Podratz, the eldest of five sons. From an early age, Don worked in his family's bakery, famous for "inventing" modern doughnuts. He was proud of the lessons learned there including patience for yeast to rise, hard work for an honest product, and a sugary glaze to sweeten life. He was not a fan of the early morning shifts, however, and those who knew him later can confirm that he was an obligate night-owl, and never preferred a tee-time before ten o'clock.

Don graduated from Dassel High School in 1952, and shortly thereafter enlisted in the US Army. He asked to go to Korea but was sent to Germany. Don served three tours in the Army in the European Theatre during and after the Korean War. Speaking German with a flawless accent, as well as French, some Spanish and little Dutch was a skill he would produce at parties to the amusement of his friends, and the benefit of his crossword-puzzling skills. Back in the states he was stationed at Fort Bliss, Texas where he worked at White Sands Proving Grounds and on base, he was assigned to evaluate the mental health of the soldiers.

Leaving the Army, he joined the Minnesota National Guard. From there he moved west to San Fernando, California, purchased and operated a pet shop. He married his groomer and they relocated to Fortuna, where his only child, Laura, was born. Moving to Eureka, he enlisted in the California National Guard, securing his past service. Combined, he served 24 years and was retired in 1988, as a Master Sergeant, after a heart attack on active duty.
Deeply patriotic, Don had membership in the Redwood Empire VFW Post 1872 where he served as Post Commander, Viet Nam Veteran's Memorial Post 883, the Eureka Elks Lodge #652, and the Eureka Moose Lodge #636. Don was a life member of the American Legion and Veterans of Foreign Wars.
Don was initiated into the Brotherhood of Freemasons at Sunland Lodge No. 1344 A.F.&A.M. in El Paso, Texas in September 1965 and raised to the sublime degree of Master Mason in December 1965. He had dual membership with Humboldt Lodge 79 and later Ferndale Lodge 393, where he served as Master in 2014. He received his 50-year pin for Masonic service in 2015. He was also a longtime member of the York Rites, Eureka Commandery, serving as head of all three bodies and received the prestigious honor of KYCH. For many years, a member of the Scottish Rites, he was a charter member in the Northern California Valley of Scottish Rite Masons, served as Venerable Master, a member of the degree team and received the KCCH honor.
Don's accomplishments as a Mason were the privilege about which he was most spirited. The Masons provided Don with a great sense of accomplishment, joy, and dedication through service, volunteering, friendship, and community.
Don joined the Shriners organization in Minneapolis in 1972 and transferred in 1992 to Aahmes Shrine. He served as president of the local Shrine club in 1998 and as secretary for a couple years afterwards. As a member of the Djinn's Band, he marched and rode in many local parades.
Don's retirement was never stagnant! Through the years, his hobbies varied and included fishing in the Pacific and lagoons in Northern Humboldt County, ballroom dancing, tending and cultivating African Violets, crocheting intricate patterns, reading, and especially golf.
In 1998 he and Carolyn joined Redwood Empire Golf and Country Club in Fortuna, where they made many very special friends. They went on group golf trips to Nevada, South Carolina, Mexico, and many courses in California.
Philately was a passion of Don's, and at its height, his worldwide collection numbered in the billions! He was a long-time member of the Humboldt Stamp Collectors' Club. An avid collector for more than 50 years, he served as president and show chairman for many years, until his health required him to give up a hobby he loved and shared with Carolyn. He met Carolyn at a stamp club meeting in 1985 and they were married five years later.
A lifetime learner, there was scarcely a subject with which Don was unacquainted. From German automobiles to ornithology his thirst for knowledge was boundless. To a friend, he would often state, "Between my father and I, we know everything there is to know in the world. Just ask me anything," and the friend would ask some obscure question to which he would reply, "My father knows that one!" His father, of course, had passed away many years prior so the claim could never be confirmed. Many of Don's interests were driven by his love of history and tradition. Stamps reflect the evolution of time and place, and it was these stories, rather than merely the objects that held his fascination.
He is survived by his loving wife and caregiver, Carolyn, and his daughter Laura. When Don married Carolyn, Laura was just five years old. Laura lived with Don and Carolyn until she started high school and moved to Idaho. Laura subsequently obtained both a bachelor's and master's degree in geology, and is now a professor of geology in Salt Lake City, UT. Although Don himself never earned a college degree, he was so proud and supportive of Laura's accomplishments.
Don is also survived by Carolyn's sons Alan and Andy Minker, who were added to the family upon their marriage. Alan and his wife Lisa and their children Katie and Nick, and Andy and his wife Martha and their three sons Andrew, Alexander, and William provided Don with grandchildren of whom he was endlessly proud. Don is also survived by his youngest brother Doug Podratz, his wife Sandy and their children.
A Masonic service will be held at a later date when family and friends are able to gather and mingle. Thank you to the Eureka VA Clinic Home Based Primary Care. Don could not have asked for better medical care and compassion. They were exceptional. Thank you also to his very special friends who were always there to visit and helped Don in a variety of ways: Pete and Barbara Kerhoulas, J. P. (John) and Janis Prince, and Judy Booth. His family and friends, gathered over a lifetime, will hold his memory in esteem.
Donations may be made in Don's name to the Northern Calif. Valley of Scottish Rite Masons, 500 Nob Hill Rd, Fortuna, CA 95040 or your favorite Masonic Order.
###
The obituary above was submitted on behalf of Don Podratz's loved ones. The Lost Coast Outpost runs obituaries of Humboldt County residents at no charge. See guidelines here.