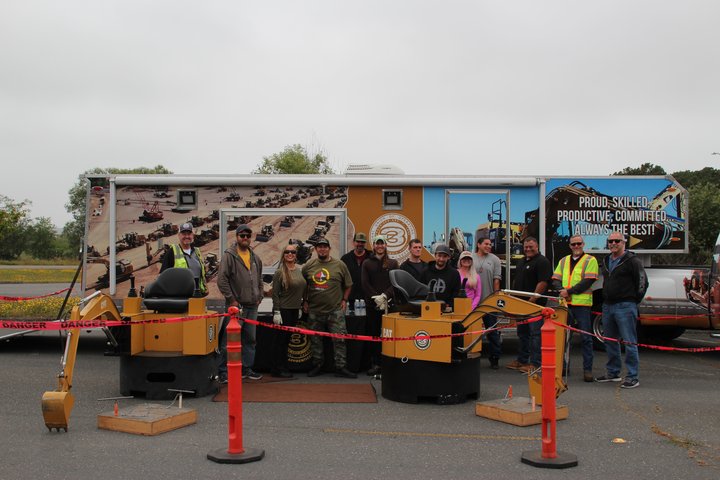 ###
Want to explore the many disciplines of trade work for free? There's a program for that!

[It's too late to dive into that opportunity right this minute, because the new program referenced above is wrapping up. But if you're interested in what that program looked like — and what future sessions of that program will look like — then here's an article for that.]
Over the past five weeks, the Building and Construction Trades Council of Humboldt and Del Norte Counties — which represents 14 union labor crafts — has been delivering a free multi-craft core curriculum (MC3) pre-apprenticeship program at College of the Redwoods. It's designed to teach people interested in the trades — like carpentry, plumbing or electric, to name a few — about how many options there actually are, and what to expect from those jobs, before jumping into a union apprenticeship blind.
"This MC3 training has been an eye-opener to what all's available as far as the trades go," one student told the Outpost. "I mean, I'm 45 and I'm ready to do a career change, you know?"
Although there's no requirement to go through a program like this when pursuing the trades, it is useful, Zachary Love, the lead instructor of the program, told the Outpost. Most students change their minds about what trade is right for them three or four times over the course of the program.
The free course is designed to provide students with preliminary information about pursuing a number of trades that pay a living wage, pushing people toward a career instead of just a job. "Trades have been left behind as far as an option," said Jeff Hunerlach, secretary-treasurer for the Building and Construction Trades Council of Humboldt and Del Norte Counties.
"Normally, in high school, you generally don't hear anything about construction. It's either college or the military," Love said. "Instead of going and flipping burgers at McDonald's or Burger King, they can be starting out at 15 to 19 dollars an hour, and then getting a two-dollar raise every six months." Post-apprenticeship, which usually lasts about five years, trade workers start out making around 45 to 60 dollars an hour.
"They'll be in the middle class, instead of being in the lower class … It'll change people's lives," Love said.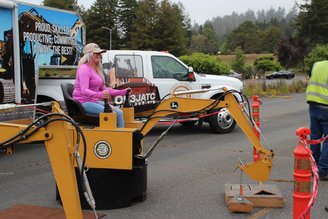 On Tuesday, at a machine operation simulation courtesy of Operating Engineers Local 3 at College of the Redwoods, another student said he's excited for his career. "This was what I wanted to do from the get-go, was [become an] operating engineer. After doing the little class today, it solidifies exactly what I want to do. It's a good program. It gives people opportunities and it doesn't really matter what your background is, either."
The seven-hours-a-day course material relies heavily on math, but also includes blueprint reading, eco practices, diversity training and sexual harassment training, Love said. Through the course, students become CPR and OSHA-10 (workers' safety and health rights) certified, which is a requirement of most apprenticeships. Plus, program leaders will try to help interested students secure apprenticeship placement after the course, although some trade opportunities are more fruitful locally than others.
Anyone is eligible for the course, however, apprenticeships usually require a driver's license and high school diploma. The program "targets people maybe out of prison, on unemployment, people not knowing what they really want to do in life," Love said, adding that there's also a push to recruit women, who make up a very small percentage of trade workers.
Funding for the program came from California gas tax grant money written by the North Central Counties Consortium, and College of the Redwoods donated a classroom for the course. In addition to affordably widening opportunities, the program reciprocates those benefits back into Humboldt by developing a pool of local folks interested in the trades.
"I, of course, said, 'Of course! CR would love to help,'" said College of the Redwoods President Keith Flamer. "And what it means for us is twofold. One, it gives us an opportunity to directly support all the workers in a trade craft, and the educational needs of folks going into trades in Humboldt County … but also, we want to be seen as supporting our economy, and supporting [our] workforce, because, as we know, moving forward the only way that our economy is going to be safe in California is if we train more workers, and this is our attempt to do what we can to help our economy grow."
This year's session was Humboldt's first, but similar programs have been running in a few other northern California counties for a couple of years. Next year, the Building and Construction Trades Council of Humboldt and Del Norte Counties will run the program again, with 20 open slots.