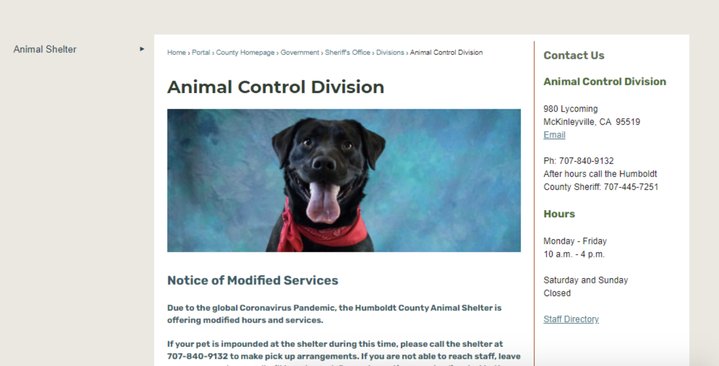 Humboldt County Administrative Office release:
The County of Humboldt launched its redesigned website Wednesday, July 14, after it was delayed for more than a year due to the COVID-19 public health emergency.

The web address will remain the same, humboldtgov.org, but the redesigned site allows for improved navigation and a cleaner, more modern feel than the previous one.

Last spring, the county's website shifted its focus to COVID-19, remaking its front page and main navigation to ensure residents could easily access pandemic-related information. While designing the new site, making COVID-19 information easily accessible remained a priority.

Now that the community is opening back up, the demand to access the full breadth of county services online has returned, and staff have worked hard to improve the site, with a goal of making it more accessible and easier to use.

"As our community reopens our residents need improved access to information related not only to COVID-19, but to all of the public services we provide," said Acting County Administrative Officer Elishia Hayes. "This is a positive development, and I am hopeful that this redesign allows community members to more easily get to the information they need. From a county perspective, it is no small undertaking to redesign a website and I want to thank all county departments and staff for their hard work and continued commitment to this vital service. We look forward to maintaining the website and welcome the community's feedback on how it can be improved."

Some website upgrades include:


Prior to 2014, the county website was hosted on county servers and maintained by one staff member in the CAO's Information Technology Division. In 2014, the county contracted with CivicPlus to host its web services, and maintenance of the website was dispersed among all county departments which has allowed information to be updated more quickly. In subsequent years, staff and residents identified a need for better navigation.


In 2019, county staff responsible for maintaining the website met with CivicPlus to assess the website and started planning for a redesign—the development and launch were free as part of the original contract. As staff prepared to launch in spring 2020, the COVID-19 pandemic started and the need for community residents to be able to easily locate information on the existing site took priority. Now that our community is opening back up, the county is launching its new site which will make online services more accessible.