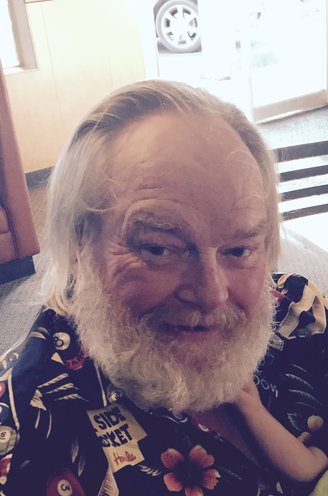 Terry Marlin Lawler left this earth on June 22, 2021 with his family by his side. He was born on November 21, 1951 in Arkansas. He moved to California at a very young age. He grew up on dunes of Fairhaven. Attending the local elementary school and graduating from Arcata High School. He was a local truck driver and mechanic by trade.

He is preceded in death by his parents Andrew and Velda Lawler, beloved brother Thomas Lawler, sister Phyliss Kelly, cousin Ronny Chance and many cherished friends and family.
He is survived by the love of his life and partner of 33 years Sharon Martin, his sons: Tommy (Millie) Lawler, Robby Lawler, and Dustin Lawler, his bonus Daughters: Heidi (Dave) Varshock, Nikki Slater, and Ariel (Blane) Santos, his grandchildren: Jaysea Jennings, Bryr Steinle, Sydney Varshock, Cody Slater, Bryson Lawler, Kenia Robles Hernandez, Riley Lawler, Brooklyn Lawler and Austin Lawler, his brothers: Mitch Lawler and Sandy (Lisa) Lawler, and the mother of his sons and friend, Lina Lawler, many cousins, nieces and nephews, and friends.
Terry was a man that did what he wanted and rarely followed directions. He was tough on the outside but a selfless gentleman with a kind soul. He never met a stranger and greeted all with a smile. He always found time or a way to help someone in need. He never had a bad word to say about anyone. He would not let someone else's ill words or actions affect him, they just rolled right off his back. He had the best laugh and his laugh would fill an entire stadium. He was a great storyteller. He had an emotional side and if you watched carefully you could see his eyes swell with happy and sad tears. He loved throwing horseshoes and darts. He was a jokester with a great sense of humor and would prank you when he could. He was a great mechanic and could fix anything. He was the one person that if you had to breakdown on the side of the road, you would want to be with him. And boy, did we breakdown.
He had a passion for collecting antiques or anything that was broken. He loved fixing up older cars, trucks and tractors, he could take the rust and make it shine. He was a free spirit who loved the open road. Whether it was a big rig, his old Ford, a motorcycle, or his latest project, he was always headed somewhere. He was very proud of his children and grandchildren. He was an affectionate teddy bear, warm with cuddles and love. He also rough housed and taught us how to arm wrestle, throw, hit and catch a ball and fight with grit. "You mess with the bull; you get the horns." He fixed up the best toys, wagons, bicycles, barbie houses, supercharged Lightning McQueen cars, kid tractors and so much more.
Even when he needed to be stern, he knew exactly what to say and how to say it. He touched many lives and his influence and zest for life will be carried on by so many. Not a day goes by when he is not loved and missed. Held in our hearts forever.
We would like to invite all that knew Terry to join us in Celebrating his life on July 17, 2021 from 2 p.m.-5 p.m. at the Azalea Hall — 1620 Pickett Rd McKinleyville. We will have food and drinks, if you would like to bring something to share, please do or just come ready to eat, celebrate and share your favorite story or memory. We would like to thank the caring staff of Hospice of Humboldt; they provided the best care and support for our family during our hardest time.
###
The obituary above was submitted on behalf of Terry Lawler's loved ones. The Lost Coast Outpost runs obituaries of Humboldt County residents at no charge. See guidelines here.