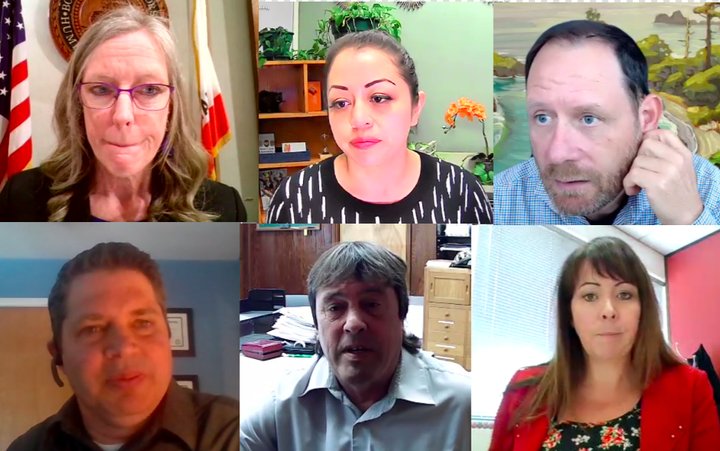 ###
PREVIOUSLY: As County's Fiscal Fiascoes Mount, Feds Impose Tax Liens, Contractors Plead for Their Money and Department Heads Sound the Alarm
###
At the outset of Thursday's meeting of the Humboldt County Audit Committee — a group formed earlier this year in hopes of resolving internal fiscal dysfunction — Auditor-Controller Karen Paz Dominguez sounded overwhelmed.
The agenda was dominated by a list of issues that pose "significant financial risks and exposures" to the county, including past due reports and large sums of lost revenue from the Public Works Department.
Speaking about the county's overdue annual financial statement review, Paz Dominguez said some coordination with other departments will be required, but she acknowledged that her own department is running behind.
"We do have limited staffing capacity right now because we are catching up on a lot of our backlog as well as training new hires," she said. "So we haven't seen the progress that we would have liked to see. But we are actively working on these items every day."
That review needs to be wrapped up before an outside auditor can start working on the 2020-21 2019-20 fiscal year audit, which is due by September 30. (The State Controller's Office extended the usual March 31 deadline due to the COVID-19 pandemic.) Rich Gonzales, a principal at the firm that will conduct that audit, Clifton Larson Allen, was on hand (virtually) for Thursday's meeting and expressed anxiety about that rapidly approaching date.
"Our concern is [that] if we're not able to start on the audit soon, we're not going to meet that deadline," Gonzales said.
Paz Dominguez spoke a bit about the process involved, and then she requested help.
"In terms of timelines, I think I'm going to need some assistance here, because we are doing the best we can already and it appears to not be meeting the needs of certain entities or agencies," she said. "I'm not quite sure who I can ask for help because this requires accounting skill … . I am only one person. I'm happy to keep working on this. I'm happy to keep training the staff here in the Auditor-Controller Department. But I think there needs to be some more collaboration amongst departments, and I would like to request assistance."
Supervisor Virginia Bass, who chairs the Audit Committee, said she believes all county departments are pretty stretched right now, but she asked acting County Administrative Officer Elishia Hayes for suggestions. Hayes recommended employing one of two outside accounting firms regularly used by the county, Clifton Larson Allen and MGO.
"[Our] office is happy to work closely with the auditor-controller to identify any other resources that might be helpful in order to make sure that this audit is completed," Hayes said.
Paz Dominguez said she's conflicted because there are several other projects besides the audit that require immediate attention, "so it's a matter of prioritization for this organization," she said, referring to the county government as a whole. "I would like to prioritize the audit … [but] there needs to be a county-wide understanding that that makes me unavailable for other requests that are not as critical or as urgent."
She asked for support from the committee and the board of supervisors "so that other departments understand, I will not be as available as they need me to be."
Some of the work burdening her office probably shouldn't be the county's responsibility, she argued. Local independent special districts, including various community street lighting and fire protection agencies, have come to expect the Auditor-Controller's Office to perform their regulatory reporting and bookkeeping.
"They do not contribute to the county for these services, but they do expect us to perform them," Paz Dominguez said. She added that if her office is expected to continue performing those tasks then formal agreements should be established, and her office will need more resources.
"We are constantly in recovery mode," she said, citing the pandemic as a primary cause of the backlog.
Scott Johnson, a partner with MGO who also attended the meeting via Zoom, said his agency is available to be contracted for help. Later, an employee from another department called in to say she has accounting experience and could also help Paz Dominguez with the work. Gonzales said his agency would like to get the necessary data from the Auditor-Controller's Office by early August, if at all possible.
Paz Dominguez said she was feeling encouraged by the conversation and told Gonzales that her office has made "great improvements" in its accounting and documentation methods. "I am confident that we can meet this deadline," she said.
Delinquent report
Next, the committee discussed a financial transactions report that was supposed to be submitted to the state by the end of January. Hayes said the State Controller's Office sent a notification in February and has been following up in recent weeks, warning that fines may be imposed.
Paz Dominguez said that, historically, the county has prepared this report after completing the annual audit, but while the state extended the deadline to submit the audit, it didn't extend the deadline for the financial transactions report. She said she would welcome the State Controller's Office or an outside agency coming in to prepare the report.
Johnson said his agency, MGO, could subcontract that work for $5,200, and the committee quickly agreed that the price tag was worth paying.
"I do welcome the assistance," Paz Dominguez said.
Lost revenue
Tom Mattson, the county's director of public works, has previously said that the Auditor-Controller's Office's delays in closing the books on past fiscal years has caused his department to lose hundreds of thousands of dollars in revenue because he's unable to bill the state and federal governments for reimbursement when such reporting is delinquent.
At Thursday's meeting, Mattson showed a spreadsheet with a list of projects his department completed over the last three years along with the dollar amounts at stake. In all, a total of $657,836.68 hangs in the balance, he said.
"I show these numbers to show how important that is to us and how important it is that we can work together as a team to close the books and get this audit done," Mattson said. "Karen, you know my staff well. Anything they can do to help you, you know you can call on them."
Johnson, one of the independent auditors attending the meeting, questioned whether Mattson's analysis was correct, saying the state may allow counties to bill for reimbursement based on figures from the previous year and then "true-up" with the actual amounts when they're available. He and Mattson agreed to discuss the matter after the meeting.
Paz Dominguez said that regardless of the particulars of this situation, she's grateful to Mattson.
"He's always very responsive, and not just on a professional level but also just, like, 'You hanging in there?' kind of thing," she said. "And I really appreciate that, because these, you know, being in these positions, it's very taxing on a person, so I appreciate that fellowship and that teamwork."
The committee discussed a few other matters, and everyone in attendance seemed to be making an effort to be congenial.
"I'm very pleased that this has been a very productive and collaborative meeting today," Treasurer-Tax Collector John Bartholomew said. "I think that there's been a lot of progress, and that I'm very happy that people are on the same page and working together to get the job done. So thank you all."
He, too, said his department's staff would be happy to help the Auditor-Controller's Office staff catch up on the work that needs doing.
###
A quick update to the story we published two weeks ago regarding the county's mounting fiscal fiascoes: One of those fiascoes has since been resolved. Darlene Spoor, executive director of Arcata House Partnership, said that after the story was published her nonprofit received the $507,394 owed by the county.
In an email to the Outpost that arrived shortly after the July 9 story was published, Paz Dominguez said her office had seen no outstanding invoices for Arcata House Partnership until the previous day, when the Department of Health and Human Services (DHHS) sent 23 of them all at once, with invoice dates spanning back to the beginning of the year. She sent screenshots from the county's financial software which she said proved this to be true.
Being unfamiliar with the software, the Outpost couldn't say for sure what the screenshots meant. We reached out to DHHS to confirm or deny that these 23 invoices had indeed been with their department for months.
DHHS employees previously told the Outpost that such delays can occur when Paz Dominguez repeatedly rejects payments to certain organizations, requiring the underlying contracts to be amended or rewritten. But through a spokesperson, DHHS Director Connie Beck declined to comment on the particulars of this case, instead offering the same statement provided for our previous story:
"Due to ongoing investigations, Director Beck declines to comment at this time."