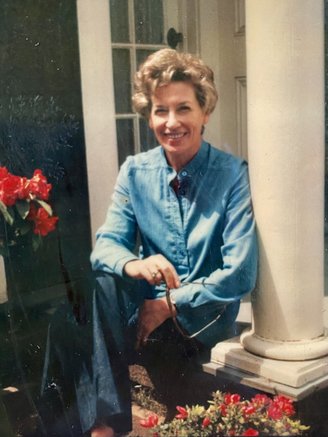 Elsie Francis Moore peacefully passed away on June 19, 2021, in her home in Eureka at the age of 99.

Elsie was born to two Finnish immigrants, Laura (Salminen) and Frank Lampi in Eureka in 1921 and grew up commercial fishing with her father out of Eureka on the F/V Elsie. Elsie, an only child, spent her young days riding Arabian horses bareback and exploring the California coast on her own. She went to elementary school at Jefferson Elementary in Eureka with other Finnish kids in the neighborhood and was known to bet fellow male classmates that she could beat them running in a race for candy. She always won those races. She was also an accomplished young ballet dancer and was asked to train at a studio in San Francisco, in which her parents unfortunately declined. This may have been her biggest regret in life, however watching her great-granddaughters flourish in dance themselves may have helped to make up for it.
In her 20s, Elsie moved to San Francisco, where she lived her best young adult life working at department stores as a hand model, and as a keypunch operator. She met a striking Italian man, Victor La Rocca, on a trip to New Orleans with friends. She married him at the age of 30 shortly thereafter and soon welcomed their only and beloved daughter, Linda, in 1953. They setup life in Eureka and lived in a renovated Victorian home in which Elsie lived until her death.
Victor passed away from a tragic accident in 1966 and Elsie never thought she would find love again. To her surprise, she met and fell madly in love with longtime Eureka resident Franny Moore. They soon married and joined their families, bringing his children, Nancy, Rusty, Tom and Bob Moore into the mix. Elsie also became a Humboldt County Court clerk for the Superior Court of California and worked and retired from there after more than 20 years of public service.
Elsie spent many of her retired days with her granddaughter - passing down her Finnish baking skills, love of art, and a few naughty Finnish words here and there. She also spent quite a bit of time traveling overseas with her best friend since kindergarten and fellow Suomi buddy, Laila Ayers. In addition, she was a volunteer at the Humboldt County Library and was frequently seen in the weight room and fitness classes at the Adorni Recreation Center until she was 90 years young.
Despite the many hardships Elsie traversed throughout her life, she was always known as a kind, caring, hardworking, and determined individual (AKA sisu) with the most extraordinary dance moves known to man (her best move was the camel walk – Google it), spectacular fashion sense, and gifted artistry. Her only daughter, Linda, and only granddaughter, Kellii (Schurb) Wood were her world, and she did everything possible to make the best lives for them possible. Elsie was also very close to her stepdaughter, Nancy Moore, who lived and cared for her until her passing. Elsie was known to see the best in even the most difficult of people and never gave up hope for those struggling in their lives. She was a dynamic female mentor to her granddaughter and two great-granddaughters, Kaija and Mia Wood. Her amazing, strong female influence and Finnish grit is a gift to them that will carry on in her family for generations to come.
Elsie leaves her daughter, Linda La Rocca; stepdaughter, Nancy Moore; granddaughter, Kellii (Schurb) Wood and husband Karsten Wood; and great-granddaughters Kaija and Mia Wood. Elsie was preceded in death by her husbands, Victor La Rocca and Francis Moore.
Elsie asked for no funeral or memorial service but was instead adamant about her cremated remains being distributed in the Pacific Ocean by her granddaughter, Kellii and her husband, Karsten, from his commercial fishing boat in Alaska.
In lieu of flowers or other gifts, Elsie would just want everyone in this world to be kind to others (very much including animals), give to those in need if you have the ability to do so, and have respect for one and other because life is too short to be any other way…and please, do it in her good name. And although she lived a long and healthy life, she is and forever will be greatly missed by her family. Minä rakastan sinua, Nana.
###
The obituary above was submitted on behalf of Elsie Moore's loved ones. The Lost Coast Outpost runs obituaries of Humboldt County residents at no charge. See guidelines here.