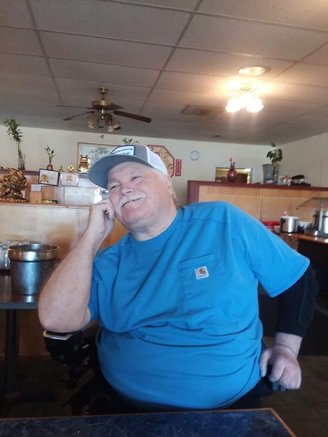 Charles L. Bean Jr.
September 12, 1956 - July 16, 2021
Charles L. Bean Jr., age 64, died peacefully at home on July 16, 2021, entering into eternal rest with the Lord Jesus Christ.

Charlie was a loving, caring man who loved his family, friends and life. He was born September 12, 1956 in Eureka.

He loved the Hoopa area, working at the Hoopa Grocery store at age 17, a job he enjoyed. After graduating in 1974 from Hoopa High he enlisted in the Army, later marrying his high school sweetheart. But in 1975, Charles was in an accident that would leave him a quadriplegic, changing his life entirely. He was discharged from the Army, also divorcing his first wife.

Skip, as his family called him, was determined to not let his wheelchair define him. He attended CR, taking accounting classes as he excelled at math, and received an A.A. degree. Over the years he would marry three more times before marrying the love of his life in August 2018. Charlie lived in Colorado for a time while working for the U.S. Forest Service, but always returned to Eureka. He worked for Sears, and Tri-County Independent Living – jobs he loved. He also worked for 10 years teaching English in China; while in China he and his wife Lei Hou adopted their daughter Bien Hou.

His passion and purpose was CICA, California IHSS Consumer Alliance where he served as executive director. He loved helping others; the challenges he faced in life is what made him so good at being an ADA advocate and consultant.
Charlie enjoyed attending meetings and gatherings in Sacramento, Chico, Willits and Redding. He travelled to the State Capitol several times with CICA, in association with IHSS. He also served on at least 10 boards, as well as serving on the Grand Jury.
He was an elder in the Yurok Tribe and he had always wanted to live in Hoopa. Over the years he attended family holiday gatherings in Willow Creek, bowled, played pool, danced, snow skied, jumped out of an airplane (attached to someone), river rafted, quilted and wheeled from Blue Lake to Willow Creek along with his brother Kenny and a cousin. Over a period of three days they accomplished the task.
To say that Charlie lived life to the fullest would be an understatement. He will be missed by all who knew and loved him.
He was preceded in death by his mom, Jean L. Craig, his dad, Charles Luther Bean Sr., stepdads Jackson A. Howard Jr. and Gerry Craig, his brother Kenny Howard, uncle Alan Hodgson and Aunt Elaine Hoyerdahl.
Charles is survived by his beloved wife, Carolyn J. Bean, daughter Bien Hou and her mom Lei Hou, sisters Janice Stevens (George), Jerri Amos (Ron), brothers Robert Howard and Stephen Bean, Emil Craig (Cindy) and his two brothers, foster sister Ginnie Larson (John), nieces Cheyenne Stevens, Lynnette Robins-Hicks (Cory), nephew Joshua Howard (Kaila) and daughter Charlotte, sister-in-law Keron Christian, uncle David Hoyerdahl, his daughters Anita Miller and Jessica Hoyerdahl and other nieces and nephews, long-time friends Mike Lewis (Sheila), Mary and Joe Dare.
Special thanks to Dr. Barker and the staff at Mad River Hospital and Wound Care Center, the doctors and staff at Providence St. Joseph Hospital, St. Mary's In-Home Health, Hospice of Humboldt, the Yurok Tribe, and Dr. Miranda, doctors and staff at CPMC Davies Campus, San Francisco for everything they did for our loved one, Charles L. Bean Jr.
There will be a memorial/celebration of life service at Eureka First Presbyterian Church in Eureka, California on Saturday, August 7, 2021 at 1 p.m.
Anyone wishing to make a tax-deductible donation in Charlie's memory may do so at:
CICA
181 Anne Way
Los Gatos, CA 95032
Arrangements provided by Humboldt Crematorium at Ocean View Cemetery.
###
The obituary above was submitted on behalf of Charlie Bean's loved ones. The Lost Coast Outpost runs obituaries of Humboldt County residents at no charge. See guidelines here.