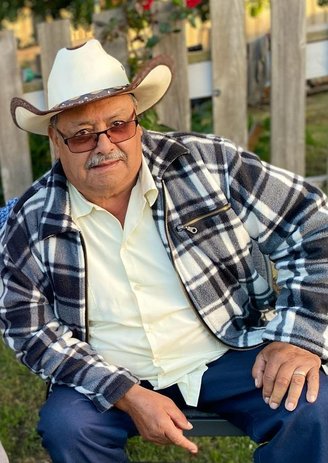 Ramon "Papa Mon" Torres Delgado
July 12, 1941 to July 14, 2021
Ramon Torres Delgado, 80, affectionately known as Papa Mon, passed away at his home in Eureka on July 14, 2021. He will always be remembered as one of the kindest, most loving, respectful, loyal and generous human beings, not only by his family but by the community as well.
He was born July 12, 1941 in Santa Maria, Michoacán, Mexico. At the age of 10, Ramon started working as a blacksmith alongside his father to help provide for his family. At 18 he joined the military in Mexico, and in 1963 he came to the U.S. with the dream of providing for his family in Mexico.
He started work at Hammond Lumber in Carlotta, where he continued working for 44 years. Due to his loyalty, he stayed at the same millsite, working for Georgia Pacific, Louisiana Pacific and finally retiring from Pacific Lumber in 2000. He was known as one of the #1 lumber graders in the Pacific Northwest and trained many young men. He worked hard, never complained and was so proud of his accomplishments.
Over the years, he also became well known for his woodworking. He has made hundreds of handmade tortilleras (tortilla presses), hand-carved ducks and small wooden cross necklaces that can be seen throughout the community.
Ramon met the love of his life Maria Torres in 1968. The moment he laid eyes on her, he knew she was his forever. Together, they built a life of love and friendship. With a welcoming spirit, their home was open to all. They never missed a family event. Papa Mon taught his kids and grandkids fishing, hunting, gardening and how to barbecue. Known for making the best carnitas ever using his compadre, Luis's, recipe, he was popular at the grill.
A patient and non-judgmental man, Papa Mon was an inspiration to many young people throughout his life. Whether they were family, friends or co-workers, young men were inspired by his unconditional acceptance of all. Through his unwavering dedication to family, he left a lasting impression of how to be a good father.
He is survived by his wife, Maria Torres; his children, Lorena Torres (Martin), Mirella Felix, Teodolinda Salas-Meza (Jose), Roberto Salas, Maria Camacho, Alicia Tuso (George) and Fermin Salas; his grandchildren and great-grandchildren, Gabriela, Julisa, Marisa, Lilly, Jose, Damian, Fermin, Anjelica, Samuel, Yanet, Erika, Brittany, CJ, Alexis, Juan, Megan, Conner, Cruz, Joshua, Jessica, Jillian, Antonio, Nicolas, Aliyana, Ryker, Finnegan, Axel, Alejandro, Isabella, Mason, Theodore, Lorenzo and Emelio. He is also survived by his sisters, Consuelo Reyna, Esperanza Torres and Anita Torres.
He was preceded in death by his parents Santiago Torres and Candelaria Delgado; sisters Socorro Torres and Teresa Torres; brothers Santiago Torres and Miguel Torres; daughter in law Natividad Revuelta and his grandson Miguel Meza.
Services will be held Monday, July 26, and Tuesday, July 27. Visitation will be Monday, July 26, from 4 to 8 p.m. at Sanders Funeral Home, 1835 E St. in Eureka, with the rosary at 6 p.m. A funeral mass will be held on Tuesday, July 27, at 11 a.m. at Sacred Heart Parish, 2085 Myrtle St. in Eureka, followed by burial services at Ocean View Cemetery.
"A golden heart stopped beating, hard working hands at rest; God broke our hearts to prove to us He only takes the best."
###
The obituary above was submitted on behalf of Ramon Delgado's loved ones. The Lost Coast Outpost runs obituaries of Humboldt County residents at no charge. See guidelines here.