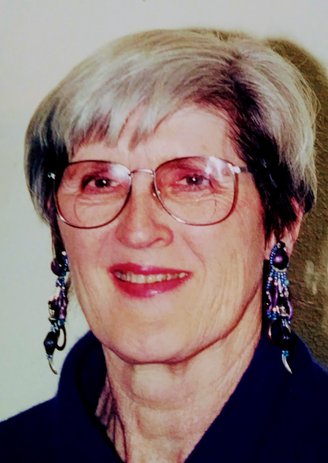 Marlene was born Sept 24, 1933 at the old Trinity Hospital in Arcata to Bethyl and Arthur Patenaude. She passed on March 11, 2021 at St. Joseph's Hospital in Eureka.

Marlene met William "Bill" Hover, the love of her life, in high school and married him in 1953.
Marlene attended Arcata Grammar School, Arcata High School-graduating in 1951, Humboldt State College-graduating in 1955 with an Elementary School Teaching Degree. She taught elementary school in Daly City, Fortuna, Blue Lake and McKinleyville, where she found her home.
Marlene and Bill, sister Jeanne and brother-in-law Pat Bryant owned Chapel of the Redwoods Mortuary in Arcata in the early 1960s. They started the first ambulance in Arcata at that time.
Marlene was a member of Camp Fire Girls. She earned the highest honor of Social Leadership. She attended Kimtu Camp in Garberville and Willow Creek, serving as counselor there for three years. Later she was Camp Fire Leader for her daughters' groups. As a young lady, Marlene was active in Job's Daughters, a Masonic Youth Group, and served as Honored Queen in Arcata and as Grand Inner Guard for the State of California.
She was a member of Arcata Soroptimist and served as their 10th President. She joined Eastern Star, a Masonic Group, in 1952. She served as Worthy Matron three times in Arcata and Ferndale and served as Deputy Grand Matron for the State of California. She also served in numerous offices many, many times. She would be ready to to fill in where ever she was needed. She was a 69-year member.
Marlene attended Arcata Presbyterian Church and taught Sunday School until 1953. At that time she joined St Alban's Episcopal Church in Sunnybrea. She served on the Altar Guild and acted as Directress of the Altar Guild and Scheduler of Flowers and Candles for many years. She was a member of the St Anne's Women's Group and served on the Vestry of the Church for a year. She was a "grandparent" to the E and O Junior Bowlers in the 1990s and early 2000s and drove to many state tournaments during the summers.
As a child, her family spent summers vacations camping in Willow Creek. She and Bill continued this with their children at Standish-Hickey State Camp for 20 years. They then rented a camp spot at Chezem Road Camp for the next 25 years. The grandchildren loved to spend weekends at the campsite learning how to fish, the names of plants and birds and playing card games in the evenings. Marlene was proceeded in death by her husband, William Hover; her parents Bethyl and Arthur Patenaude; In-Laws Helen and John Hover; grandparents Sadie and Emmanuel Patenaude and Florence "MaAm" and Albert "Bert" Robinson; aunts and uncles Mabel and Les Patenaude, Rose and Clyde Patenaude and Carol and Darryel "Buz" Robinson.
Marlene is survived by her sister Jeanne (Patrick) Bryant-Eureka; children Tamee Hover (Peter Bloxom)-Eureka, Bethyl Hover-Arcata and William (Donna) Hover-Eureka; grandchildren Karli (Patrick) Kinney — Coos Bay, Arthur (Haley) Hover-Jacksonville Fla., Michael (Dannyel) Hover-St. Marie Montana, Robert (Elaine) Wright-Kea'au Hawaii; great-grandchildren Jonathan (Rachel) Turner, Ashley (Austin) Schneider, Cheyenne (Jayse) Morgan, Elyshia Kinney,Case Zunino, Nathaniel Kinney, Aliyah Zunino and Mason Kinney all of Coos Bay, Tessa and Gracelyn Hover of Jacksonville, William Hover of St. Marie, and Angelina, Anthony, Benjamine, Natalie and Gabriel Wright and Lilian Zacky all from Kea'au, Hawaii; Great-Great grandchildren Kaiicen, Elijah and Mackenzie Turner, Isabella, Charolette and Madeleine Morgan, Jackson and Jameson Schneider all from Coos Bay.
Cremation was by Ayers. A celebration of lfe will be held at St. Alban's Episcopal Church 1675 Chester Ave. Arcata, CA 95521 on August 14 at 1 p.m.. Please wear something bright and kooky in the spirit of Marlene. Masks will be required. In lieu of flowers, donations can be made in Marlene's name to St. Alban's Episcopal Church.
###

The obituary above was submitted on behalf of Marlene Hover's loved ones. The Lost Coast Outpost runs obituaries of Humboldt County residents at no charge. See guidelines here.