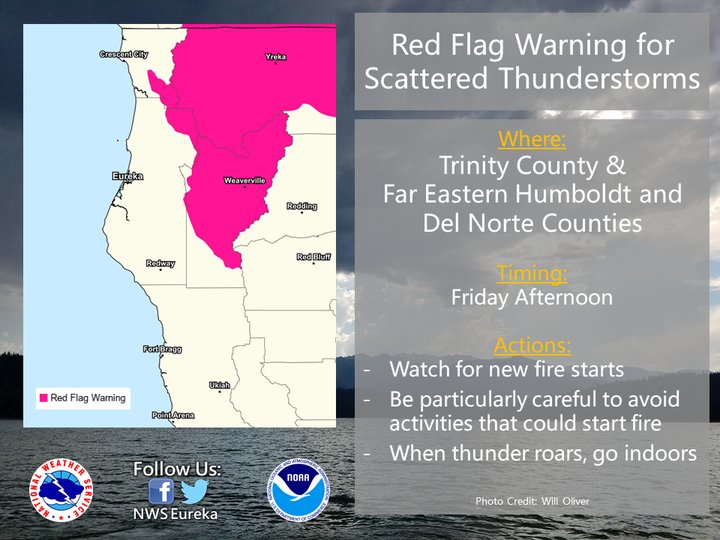 ###
It's crisp and sunny and beautiful here on the coast, on this last workday of July, but the clouds are gathering out east.
This morning, the National Weather Service's Eureka office issued a Red Flag Warning for a swath of interior Northern California — including the Orleans area and much of Trinity County — due to expected thunderstorms this afternoon.
This, combined with the fact that the weather system isn't expected to generate much precipitation, combined with our extended and very severe drought, is very bad. If lightning strikes our tinderbox hillsides in the wrong way, we could be looking at dangerous fire conditions.
Humboldt has been pretty lucky so far in this, potentially the worst of all fire years. But a couple of days ago a lightning storm sparked what they're now calling the McFarland Fire near the community of Wildwood, on the downhill side of Highway 36, and the Trinity County Sheriff's Office has issued evacuation warnings.
From the National Weather Service:
Monsoon moisture combined with hot temperatures will aid in scattered thunderstorm development across the interior mountains this afternoon and evening. Storms will produce very little precipitation, which will increase the threat for fire starts due to lightning across portions of Trinity, northeast Humboldt, and eastern Del Norte Counties.

RED FLAG WARNING REMAINS IN EFFECT UNTIL 8 PM PDT THIS EVENING…

AFFECTED AREA…Fire weather zone 204 and 283.

THUNDERSTORMS…Scattered thunderstorms are expected this afternoon and evening.

WINDS…Erratic thunderstorm winds gusting to 50 mph will be possible. *

IMPACTS…Frequent lightning in the vicinity of critically dry fuels may result in new fire starts. Rapid spread of fire possible depending on terrain and local wind conditions. Thunderstorm outflow winds may result in erratic fire spread. Despite some rainfall with storms, initial attack resources could be overwhelmed and holdover fires are possible.

PRECAUTIONARY/PREPAREDNESS ACTIONS… A Red Flag Warning means that critical fire weather conditions are either occurring now, or will shortly. A combination of the above conditions can contribute to extreme fire behavior.