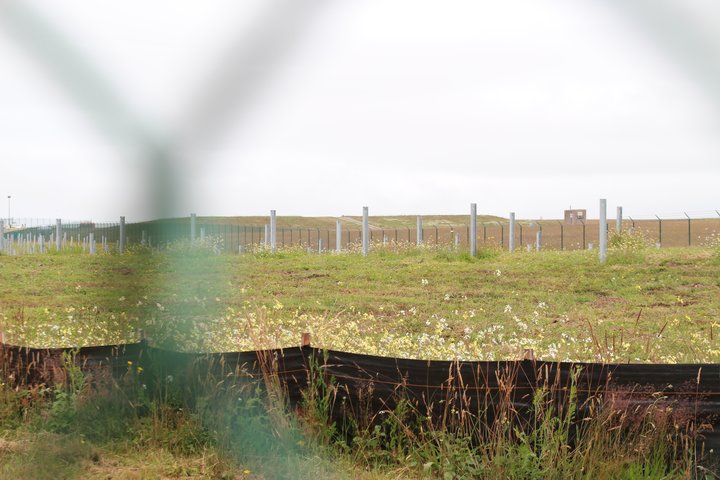 A massive collaborative effort has been brewing at the Redwood Coast Airport over the last three years. On Wednesday, partners of that effort — including representatives from Redwood Coast Energy Authority, Humboldt State University's Schatz Energy Resource Center, Pacific Gas and Electric, and the County of Humboldt — gathered to celebrate progress of a soon-to-be-finished solar-power microgrid that represents a milestone for emergency energy preparedness in California.

"For years, I've been pushing for cleaner, safer, more flexible infrastructure to take us into the next century to the more challenging times that we know lie ahead," said Congressman Jared Huffman, who was one of eleven speakers at the event. "And this project just checks all of those boxes, and more."
What is a microgrid, anyway? A microgrid is any power source — be it solar, wind or fuel — that generates and stores energy for a small network of nearby users. Increasingly, renewable energy microgrids have been popping up around California, sometimes with the intention to cut ties with PG&E due to frustration over fire season-provoked mass power outages.
But what's unique about the Redwood Coast Airport microgrid is that it was possible because of a partnership with PG&E, along with several other entities. It was designed by HSU's Schatz Energy Center, its battery and solar systems will be owned and operated by the Redwood Coast Energy Authority and it will deliver electricity via lines owned by PG&E. It was financed by a $5 million dollar grant from the California Energy Commission's EPIC program and a 6.6 million dollar loan from the United States Department of Agriculture.
The project shows "that there isn't a choice between reliability, and, you know, decarbonization and renewables," Matthew Marshall, executive director of Redwood Coast Energy Authority, said. "We don't need to compromise resilience. We can actually enhance resilience by transitioning off of fossil fuels to renewables."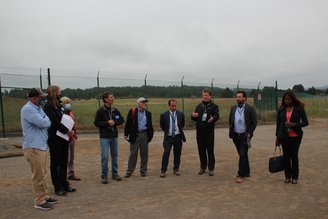 The Redwood Coast Airport Microgrid will usually be connected to PG&E's centralized grid, adding stability to their services and generating enough electricity to power more than 500 households per year.
The beauty — and point — of the microgrid, though, is that it can function independently in the event of a mass power outage or emergency. The Redwood Coast Airport Microgrid will be able to supply power to the airport and neighboring US Coast Guard Air station — which covers search and rescue missions from the Mendocino-Sonoma county line to the Oregon border — for up to two weeks in the event of a mass power outage and for up to 24 hours in particularly gnarly weather conditions, like a winter storm.
Huffman praised what the Redwood Coast Airport microgrid means for Humboldt County: Fewer greenhouse gas emissions, a safety net for the airport and Coast Guard station — two essential services in the case of an emergency — and a blueprint for future collaborative microgrids in California and the United States. "Thanks for your excellent work," Huffman said. "I'm going to go back to Washington and brag about everything I've learned today, everything I've seen on the ground."
This microgrid is also unique because it is the first front-of-the-meter (offsite) multi-customer microgrid located within PG&E service area — microgrids often supply energy to areas that are outside of PG&E territory and therefore have no other option for power — and the first microgrid to participate in the state's wholesale energy market, which will help pay for the microgrid itself.
Because of this, its creators anticipate the microgrid will serve as a model for other communities interested in building something similar, and PG&E is already in the process of developing those guidelines.
"This microgrid is quickly becoming, like, the capital microgrid development in California, if not the United States," Ron Richardson, regional vice president of PG&E, said. "We all know the importance of having a clean, reliable energy, and microgrids play an increasingly important role in PG&E's ongoing effort to harden our electrical systems and enhance local grid resilience throughout Northern California."
Peter Lehman, the founding director of Schatz Energy Center, thanked PG&E in particular. "Together with PG&E, we've had to devise control strategies, safety protocols, cybersecurity tariffs and operating agreements to make this whole project work," he said.
Cody Roggatz, Humboldt County's director of aviation, is already interested in possibly replicating the microgrid at the five other airports in Humboldt County, and marveled at the number of people this microgrid's power will reach.
"There's over 5 million people that are going to go through that terminal in the next 25 years while this thing is operating," Roggatz said. "Think about that conceptually. So if we took this field of posts here, we couldn't fit 5 million people in this 11.1 acres that the micro grid will be occupying, and that's what's exciting to me, is the amount of people this is going to impact."
The Redwood Coast Airport Microgrid was largely modeled after the Blue Lake Rancheria microgrid, which was the first designed by Schatz Energy Center in 2017.
Reflecting on the severity of the climate crisis — peak CO2 levels, fires, droughts, sea level rise, ocean warming and acidity, shrinking glacial ice — Blue Lake Rancheria Tribal Council Member Jason Ramos pointed out that projects like these prove we're turning a corner.
"You know, at the Blue Lake Rancheria, we have some traditional cultural beliefs. We have a belief that we have to take care of our land, that we don't just take from the land, but we give something back. We believe that we're the original stewards of our land. And we're serious about low carbon energy projects that help support the land, and protect it. Microgrids do that for us," Ramos said.
"Microgrids also do another thing that is near and dear to our cultural beliefs, and that's the belief that we have a principle of self reliance and of self determination and of our own tribal sovereignty, and it's a belief that we need to take care of ourselves and that we should be self-sufficient."
(DISCLOSURE: The Blue Lake Rancheria is a minority owner of Outpost parent company Lost Coast Communications, Inc.)
Right now, the microgrid looks like some big boxes and a field of poles, which will soon balance solar panels. The project is projected to be complete in late 2021.
"When you hear the news these days — fires, heat waves, hurricanes — it's pretty easy to go to a dark place when you realize how quickly our Earth is changing and how daunting the challenges are that we all face," Lehman said. "But this microgrid is a bright light. Right behind me here is the technology and the know-how we need to both mitigate climate change and adapt to its challenges."