Lumberjack Arena gets a makeover. | All media provided by HSU
In April, the Humboldt State University Athletics Department unveiled its new sports logo: a green and gold "H" with an axe in its center. The new logo was the culmination of a four-year process that began after student athletes and alumni complained that the old "flying J" logo was confusing and generally lousy.

In an effort to create an attractive, more streamlined logo, HSU spent $17,000 to hire Osaki Creative Group – a graphic design company that's developed logos for a number of professional sports teams, including the San Francisco 49ers, the New York Jets, the Miami Dolphins and the Tampa Bay Buccaneers. The company has also designed logos for fellow CSUs San Diego State and Sacramento State.
"There was overwhelming feedback that the student athletes and alumni wanted a new logo rather than a modified or updated logo," HSU spokesperson Grant Scott-Goforth told the Outpost. "Most never even realized that the 'flying J' was an axe. The logo was hard to reproduce and 'Jacks' was generally confusing. There was a desire to create a bolder, simplified logo that reflected the character and strength of HSU Intercollegiate Athletics and Recreational Sports as well as the pride of the broader University. Using the H tied the athletics logo more directly with the broader University."
With a new logo secured, the athletics department also took the opportunity to coincide its rebranding with some pricey repairs needed in Lumberjack Arena. HSU officials told the Outpost that the Lumberjack arena hardwood required three sanding treatments to fix the extensive damage caused by years of heavy use, including chipping, depressions in the maple planks from rolling wheels and a cracked varnish. The hardwood planks were also reportedly sagging or "cupping" in the center due to age and moisture.
According to a bid proposal approved by the CSU System, the repairs cost HSU $75,000. That price included the complete refinishing of the hardwood, along with HSU's new athletics logo neatly adorned at center court.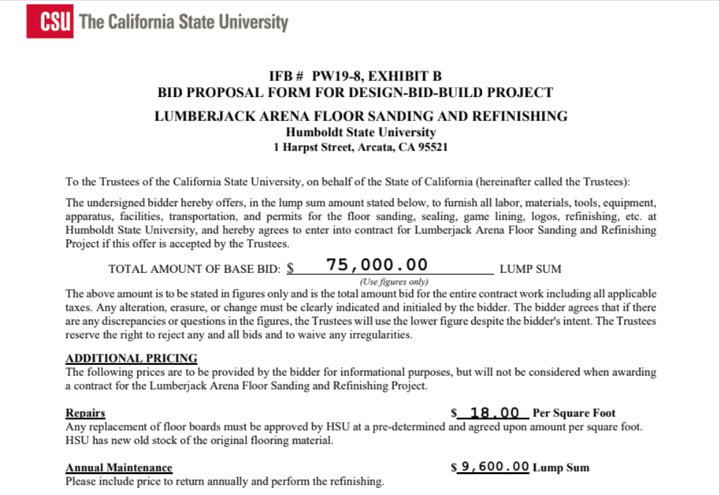 But four years later, with the new logo freshly sealed in place, HSU finds itself at a major crossroads that could cause the athletic department's rebranding process to start all over again. Last November, HSU President Tom Jackson Jr. announced that the California State University System was nudging the school to begin the process of becoming the state's third polytechnic. With Gov. Gavin Newsom's recent $433 million proposal to finalize that process, it seems increasingly likely that the university as a whole will undergo a major rebranding — one that includes a complete name change that may or may not include the word Humboldt.
In March, HSU held a virtual forum asking community members for name suggestions if HSU were to rebrand itself as a polytechnic. The Times-Standard reported that participants generally agreed: Humboldt should be included in any imagined new title. However, HSU spokesperson Grant Scott-Goforth was unable to confirm that Humboldt would stick.
"At this point, I don't think there's an answer to that," he said. "I don't think it's 100 percent. Everyone involved realizes that's an important part to the school's identity."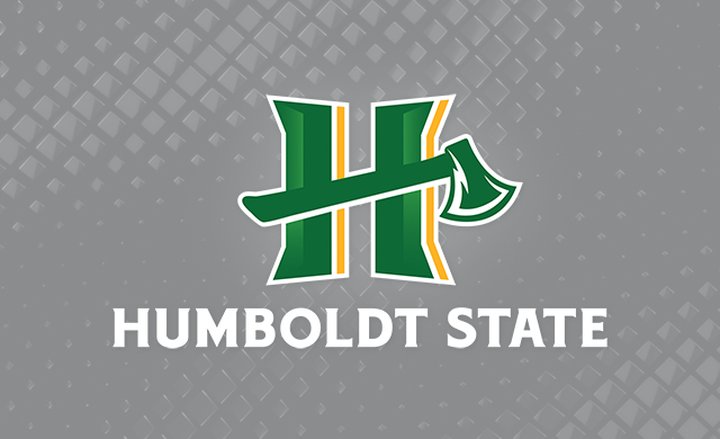 If the university were to drop Humboldt from its title, the athletics department would find itself in an awkward position. Its brand new logo, featured on its newly refinished basketball hardwood, is composed of a giant H, an H that would no longer have any connection to the school's title.
"If that was the case, that certainly would be unfortunate," Scott-Goforth said. "The athletic rebranding process was already well underway before the polytechnic process came to steam. But I think it's pretty safe to say that Humboldt stays in the name."
But if Humboldt goes, Scott-Goforth said another rebranding would be possible.
"We are unsure," he said. "It would depend on what possible name change was adopted, among other factors. It is possible the logo could stay the same or similar, and it is possible it would need re-thinking."