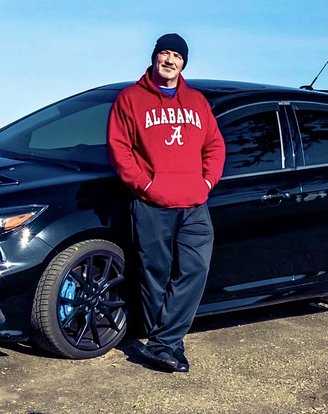 It is with great sadness we announce the passing of Jeffery Harmon Daniel on June 4, 2021.

Jeff was born on April 24, 1969 in Denver, Colorado to David and Cheryl Daniel, and was the youngest of five children. The family moved to Humboldt County in 1983, where much of the family has remained for nearly 40 years. Jeff graduated from Arcata High School in 1987. He was an amazing athlete, participating in many sports, with a particular passion and incredible talent for football, which he continued to play through college.
Jeff attended the police academy through College of the Redwoods, graduating in August of 1990. He served as an undercover narcotics agent with Glenn County Sheriff's Department for a brief period. He was hired as a police officer for the Eureka Police Dept on September 28, 1991. He had an amazing and successful career, serving in many facets of EPD, including patrol officer, field evidence officer, SWAT, field evidence technician and detective, receiving his promotion to sergeant in January of 2003. Jeff retired from EPD on August 16, 2004.
He had a love and passion for anything fast, especially motorcycles. Whether out on the street riding his ZX14, or racing at Thunderhill on his GSXR 1000 at 180 m.p.h. with his closest friends, it was where he found his inner peace. Jeff also had his own business fabricating custom motorcycles and custom paint work for a few years. His love for bikes and cars started in childhood from his father, who taught Jeff and his brothers everything he knew about building fast cars, fast bikes and faster engines. Jeff and his brother Sean carried that knowledge into their current lives, with Jeff currently working at Humboldt Motorsports for nearly 10 years.
Jeff was a talented, skilled, motivated, selfless, honest and intelligent man. Whether being a police officer, master welder, master mechanic, skilled fabricator or builder, there was nothing he couldn't do or accomplish, always striving for more of himself. He took pride in everything he did, whether building a deck, getting a customer's bike fixed and working, or milling custom components.
Jeff made friends with everyone he met. He was very personable, humorous and friendly. He appreciated and cherished the friendships he made, especially those with his friends closest to him.
His greatest love was the love he had for his family. He was an amazing, supportive husband and best friend to his wife. He strived to be the best father and stepfather he could be to his son and his stepchildren, and loved them with all of his heart. He adored and loved his grandsons.
He is preceded in death by his mother and family matriarch Cheryl Daniel (Dave), his brother Lorne Daniel and his stepson Dalton Gutierrez. He is survived by his wife Tanya Fulton, father and family patriarch David Daniel (Cheryl), sister Christina Daniel, brother Sean Daniel, son Joss Daniel, stepson Bryce Wheelock, stepdaughter Dakotah Gutierrez Brennan(Andrew), stepdaughter Ashley Gutierrez, grandsons Jackson and Ronan Brennan, and many nieces and nephews, and great-nieces and nephews.
There will be a memorial and celebration of life for Jeff on June 19 at 4 p.m. at Humboldt Motorsports in Eureka.
###
The obituary above was submitted on behalf of Jeff Daniel's loved ones. The Lost Coast Outpost runs obituaries of Humboldt County residents at no charge. See guidelines here.