A group of angry protesters on Tuesday stormed into a town hall meeting being hosted by Rep. Jared Huffman to wave signs and shout chants such as "Medical freedom now!" "Shame on you!" and "Fauci lied!"
In a Facebook post published after the event, the North Coast congressman said the "mob" forced its way into the meeting, in defiance of health and safety protocols, and proceeded to be rude and aggressive.
"Outside of the January 6th insurrection, this might be the ugliest, most disgraceful spectacle I've ever seen," Huffman wrote.
Video footage from the event, which was held in San Rafael, shows protesters waving American flags and protest signs, including one that says, "All the ferrets died." That's apparently a reference to a viral and debunked Facebook post claiming that animals involved in COVID-19 studies all croaked shortly after getting the shot. Again, malarkey.
Other signs compared the alleged discrimination faced by unvaccinated people to racial segregation and apartheid. Yet another invoked the Black Lives Matter movement by stating, in all-caps, "UNVACCINATED LIVES MATTER." Those signs were held by white people, naturally.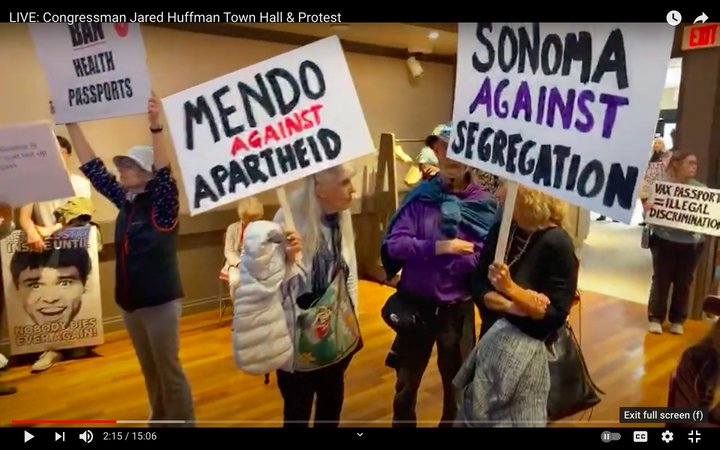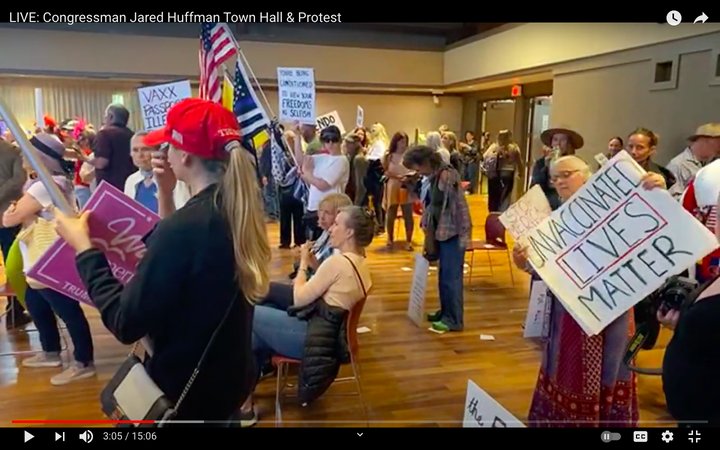 The protesters were apparently upset that proof of vaccination was initially required for admission and capacity was limited for physical distancing. (The vaccination requirement was later dropped.)
Amidst the shouting, Huffman addressed the protesters from the stage, saying, "We have always had capacity rules for gatherings. We've always had common sense limits on gatherings, and I'm sorry that some of it rubs you the wrong way. But it is not a civil right. It is not apartheid. It is not the Holocaust."
Here's what Huffman had to say afterward:
Tonight an angry COVID-denying mob tried to turn my town hall meeting into a MAGA circus. Outside of the January 6th insurrection, this might be the ugliest, most disgraceful spectacle I've ever seen.

I feel badly for the many constituents who wanted to join me in the kind of productive, respectful community dialogue we always have at my town hall meetings. The mob forced its way in, flouting public health rules on room capacity, masking and distancing. They defied our request that the limited room space be reserved for vaccinated constituents who had RSVP'd to attend (everyone else could join online). The mob was rude, aggressive, and determined to verbally and physically prevent us from proceeding, essentially daring us and/or the police to try and remove them, which we declined to do.

Thankfully, other than pushing, shoving and screaming, they stopped short of violence. To my poor staff and dozens of constituents who showed amazing grace and patience in weathering this spectacle with me, thank you. We were disrupted and disrespected, but not intimidated or deterred. We did our best to push forward with some semblance of a town hall.

I've had dozens upon dozens of town halls over the years and this has never happened before. Hopefully it will never happen again. To my knowledge, I'm the first Democratic politician in our area to try to resume in-person town hall meetings, and we wanted to do so in careful compliance with public health rules. We will find a way to get back to functional, respectful town hall meetings — they are such a wonderful exercise in democracy when people respect each other and express themselves with a modicum of civility.

But this is a cautionary tale regarding an issue I tried to discuss tonight. As strong and resilient as our democratic republic has been for over 230 years, as much as we think of American democracy and the rule of law as unshakable, the survival and continuation of this experiment is not preordained. We could lose it all. We came damn close to losing it over the past year, and those threats are still with us. Those of us who care about American values and institutions are going to have to do the hard work of maintaining and defending them against some very ugly, very serious threats in the months ahead.