May we interest you in some morning beats, Humboldt?

Just in time for Father's Day, Humboldt's own Area Sound has released their next video featuring music from their 2020 album Squeeze the Elephant. In the song "Next Man" rappers Liam "Steamer" Nelson and Zach "Zigzilla" Lehner — both parents themselves, you'll recall — rhyme about the gratitude they feel for the example set by their dads, all during a picturesque North Coast day at the beach.
"We made this song and video to show love, appreciation, and respect for our fathers who each did an incredible job raising us," Lehner told the Outpost. "This song is also a reflection on becoming fathers ourselves and carrying on our dads' legacies by raising sons of our own."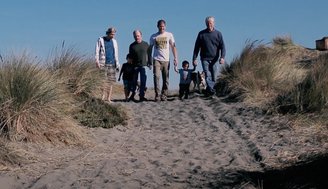 Shot near Humboldt's North Jetty with the assistance of producer Joanna Galicha, the clip features two sets of three generations of both Nelson's and Lehner's clans interspersed with family photos dressed up as hip hop album covers.
"We are really proud of how this video turned out and even more proud of our dads," Lehner said. He also wanted to make sure to add that today is his hip hop partner's dad's birthday. So, from all of us at LoCO, happy birthday to Steamer Sr. and happy Father's Day to the rest of the Humboldt dads out there. Enjoy the clip for "Next Man" above and/or check out previous Area Sound offerings below.
PREVIOUSLY: