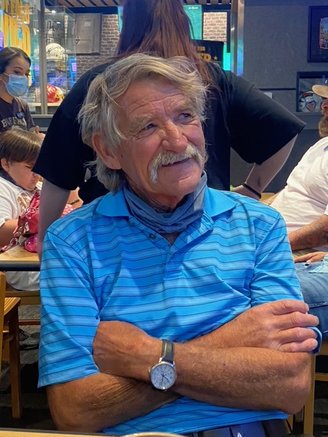 Joseph Lawrence Bessette —"Pops" — left this world on Tuesday, June 8, 2021. He was 66 years old.

Joe was born on June 6th, 1955 in Eureka. He attended both St. Bernard's and Eureka High School and it was at that time he met the love of his life, Terry Wright. In 1978, he married Terry and together they had two children, Joey and Jennifer.
Pops was a contractor by trade and there probably wasn't a day that went by that he wasn't doing two of his favorite things, fixing stuff and helping others. The list of people that benefited from Pops being included in their lives is endless. The Bessette home was welcoming to all and you knew you were accepted once he gave you the "Don't knock on the front door, Just walk in" speech. Pops was a hard worker, a loving dad and husband, an incredible friend, and one of the best Papa's his grandkids could ever ask for.
Pops is survived by his son, Joey Bessette (Kella), and daughter Jennifer McCormick (Patrick); grandchildren Lilly Bessette, Ryan McCormick, Isaac Scott, Sarah Scott, Carol McCovey; sister Michelle Van Winkle (Ray); brother Chris Bessette (Karen) and sister-in-law Kathleen Bessette; nieces and nephews, Donny, Sarah, John Dean, Jacob, Michael and Richard and their respective spouses and children.
He is preceded in death by his wife, Terry Bessette, parents John and Patricia Bessette and brother Will Bessette. His extended family is numerous and it is impossible to name them all, however some nearest to his heart included Rob Moore, his wife Jenn, and two daughters; Casey Wood, wife Natasha, and their two children; Toni Baya, husband Kevan and their daughter; Bob Pfannenstiel, wife Debbie and daughter Katrina; Nick Vulich girlfriend Kara and their two daughters; Crystal Perez, Steve Valentine, his wife Nicki and their children and so many others. He leaves behind his beloved dogs Bucky and Katy and the birds.
Pops' final days were made much brighter thanks to his girlfriend Pam Cahill, with whom he was able go on new adventures with and was able to put a smile on Joe's face like nobody had in quite a while.
Pops was well known in the community and loved pointing out the various buildings around town that he helped build. He loved his times at Wednesday night golf league at Eureka Golf Course and was one of the mainstays in that league for many years. He often said one of the highlights of his life was being able to stand on the tee box when his son, Joey, made his first and Hole-in-One. The void left by Pops' passing will not soon be filled however we all must do what Joe would do in a time like this, get back to work and get the job done. The family would like to thank the staff, doctors, and nurses at St Joseph Hospital for their efforts with Joe's healthcare.
There will be a celebration of life on Saturday, July 24 at 1 p.m. at 6525 Humboldt Hill Road in Eureka. Memorial donations may be made in Joe's name to the Eureka Golf Course in support of Junior Golf.
###
The obituary above was submitted on behalf of Joe Bessette's loved ones. The Lost Coast Outpost runs obituaries of Humboldt County residents at no charge. See guidelines here.