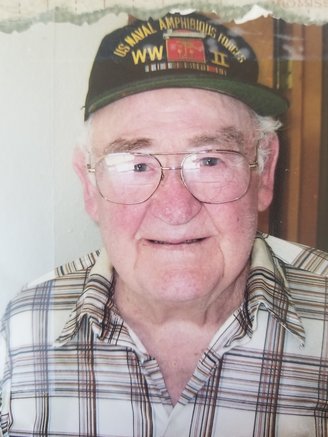 Dad passed away peacefully the morning of June 5, 2021 at Frye's Care Home in Eureka at the age of 99. Dad was born on December 22, 1921 to Alfred Stanley Pearce and Christine Nessier Pearce in Fields Landing. Dad was one of two identical twin boys, the youngest of five children, five minutes younger than his twin brother Robert. Dad and his siblings grew up during the Great Depression in Eureka. He was greatly affected by those hard times. He would tell me and my sister how life was as a kid and having to make ends meet and to do without at times.

Dad graduated from Eureka High School in 1941. He boxed Golden Glove while in high school and later boxed when he was in the Navy. He was a member of the Eureka Lions Club boxing team. Dad was well known in Humboldt County for his boxing skills. Scoop Beal, the sports writer for the Humboldt-Standard in those days, would do many boxing articles on his club bouts.
After graduating high school Dad enlisted in the U.S. Navy in 1942 during WW2. Dad saw combat during the invasion of Sicily, driving an invasion barge to the beachheads carrying troops and equipment. He was sent to Gila Italy, then to Gibraltar, Tunisia, North Africa in the war effort against Nazi Germany and Fascist Italy.
Dad and Mom were married February 14, 1949. They owned a paint store for a short time. Dad also owned the Bank Club bar in Eureka. He worked for Brinks driving the armored truck. He owned and operated Rol's 3020 Club in Eureka on Broadway in the early '60s. He worked at Hammond Mill, drove for Callisons Freight Lines and was a Eureka city fireman. Dad's last job was at the Eureka Post Office, where he worked for 20 years. He retired in 1986 as the VOMA — vehicle officer maintenance assistant – and driver trainer instructor/examiner, a job he thoroughly enjoyed. Dad was also a lifetime member if the Veterans Of Foreign Wars VFW Post 1872.
Dad was a wonderful caretaker to his mother-in-law, Maria Gonsalves, when she was suffering from cancer. He would perform all the necessary functions to keep her comfortable in her time of need. He was with her when she passed. Dad also took care of his wife, our mother, when she was ill with cancer. He did so without hesitation and with loving care.
Dad was an avid brant, duck and deer hunter. He enjoyed clamming and fishing as well. One could find him surf fishing in Orick or anywhere the fish were running. He would take his grandsons fishing at Freshwater Lagoon and Orick. One of his hobbies included racing hydroplane racing boats that they build on Big Lagoon with his friends. He also had a talent for art, drawing yard signs and sketches.
Dad was proceeded in death by his wife, Elsie A. Pearce, mother, Christine Nessier Pearce, father, Alfred Stanley Pearce, his older sisters, Alyce Giannini, Florence Girsback, Bernice Hemm, and twin brother Robert A. Pearce.
Dad is survived by his children, Roland M. Pearce (Denice), Deborah M. Butler (Steve), his Grandchildren, Jeffrey Pearce (Betsy), Jerrod Pearce (Jamie), Jason Pearce (Stacy), Stephen Butler and Brian Butler. He is survived by Great Grandchildren Katelyn Pearce, Leah Pearce, Parker Pearce, Jack Pearce (due in July), Benjamin Pearce, Hetty Pearce, Harper Pearce, and Kaylee Pearce. Dad is also survived by his many nephews and nieces.
A celebration of Roland J. Pearce's life will be held at the Eureka Elks Lodge #652 on Herrick Avenue in Eureka on Tuesday, June 29, 2021 at 11 a.m. There will be an honor guard ceremony starting around that time in honor of his military service. Food and refreshments will be provided.
Our family would like to thank Frye's Care Home, Dolly Frye, Dee Dee Frye, and their great staff for caring for him since 2012. Hospice of Humboldt (Coral) for his end of life care. Veterans HBPC nurse Rebecca Morris for Dads healthcare needs. We also thank Sanders Funeral Home and Oceanview/Sunset Cemetary for thier services. Donations in Dad's name can be made to Hospice of Humboldt or Mad River Community Honor Guard, P.O. Box 152 Bayside CA 95524.
###
The obituary above was submitted on behalf of Roland Pearce's loved ones. The Lost Coast Outpost runs obituaries of Humboldt County residents at no charge. See guidelines here.