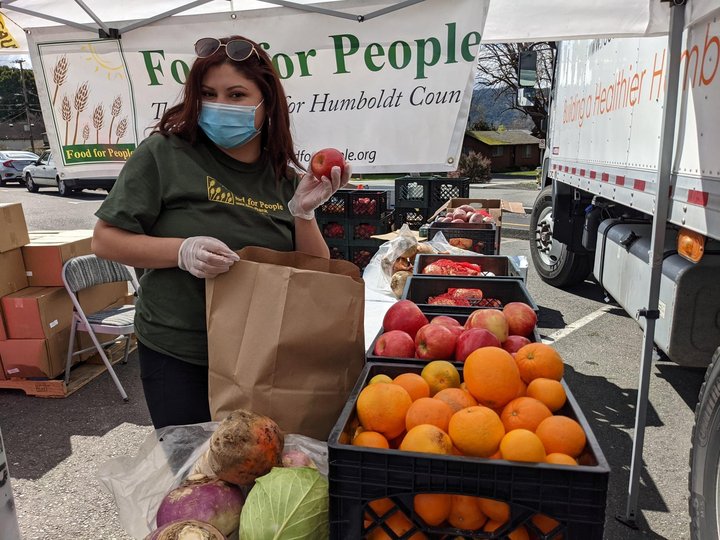 ###
Press release from Food For People:
This summer Food for People will host seasonal Free Produce Markets in Eureka, Fortuna, Garberville and Redway. These free outdoor farmer's market-style produce distributions will take place from June through October to ensure that everyone in these difficult times can have access to the nutritious, seasonal produce needed for good health.

Bayshore Mall, 3300 Broadway. Drive-thru only. 11 a.m.-1 p.m on June 24, July 29, August 26, September 23, October 28.

Fortuna Community Services, 2331 Rohnerville Road. Drive-thru & walk-up. Walk-ups enter from David Way. 11:30 a.m.-12:30 p.m. on June 23, August 25, September 22, and October 12.

Garberville Presbyterian Church, 437 Maple Lane. Walk-up. 10:30 a.m.-noon on June 8, July 13, August 10, September 14, October 12.

Redway Baptist Church, 553 Redway Drive. Drive-thru & walk-up. Cars enter from Empire Drive. 12:30-1:30 p.m. on June 8, July 13, September 14, October 12.

Those in attendance are asked to wear a mask, come with their own bags, and observe 6-foot social distancing while at the distribution. For more information or to see if you qualify visit foodforpeople.org.

This program is available thanks to partnerships with California Emergency Foodlink, the California Association of Food Banks' Farm to Family program, and CalFood Logistics.

Want to get involved? Food for People is seeking volunteers for the Free Produce Markets. Come and help distribute produce to hundreds of families, children, and seniors. Volunteers help set up and stock the market. It's a fun and rewarding way to spend a few hours and help local community members. If you are interested in volunteering visit www.foodforpeople.org and fill out the Volunteer Response Team Form.