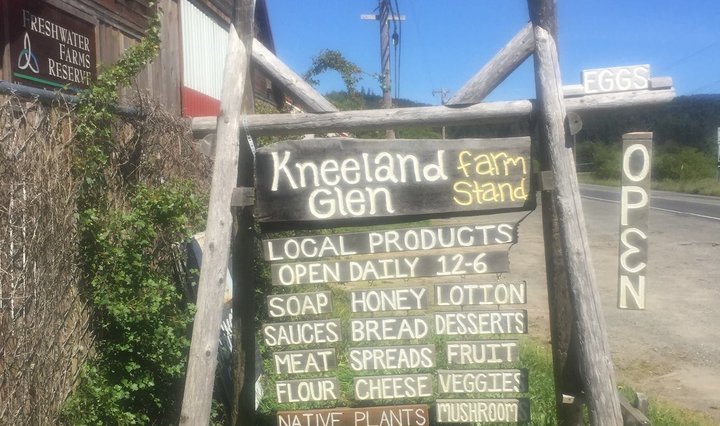 PREVOIUSLY: Kneeland Glen Farm Stand Owner Evicted After Dog-Bite Incident, Repeat Warnings About Bringing Her Dog Onto the Property; Community Organizes Peaceful Protest
###
Kneeland Glen Farm Stand owner Kathy Mullen is staying put — at least for now — after the Northcoast Regional Land Trust issued an eviction notice last month and ordered her to be off the property by May 31.

The NRLT Board of Directors agreed to evict Mullen after repeatedly warning her to keep her dog Tootsie off the Freshwater Farms Reserve property following a biting incident that occurred earlier this year.
Mullen told the Outpost that she's accepted help from a local attorney and found a new home for her beloved 14-year-old corgi mix since receiving the eviction notice.
"Several weeks ago, I rehomed my dog Tootsie to a new owner and she will never be coming back to the property," Mullen said. "This fact has been given to the Land Trust through my attorney. My livelihood and that of many small producers are at stake."
NRLT Executive Director Dan Ehresman declined to say how the non-profit plans to respond, but Mullen seems set on working out a deal rather than accepting the eviction.
"My attorney has requested dialogue with NCRLT toward resolving any other concerns they might have, including use of third-party mediators to facilitate the discussion, and are optimistic that NRLT and I will be able to amicably resolve the matter if they engage in dialogue with me or my attorney," she said. "We are waiting on a response to a letter my attorney sent them. I value my 12-year relationship with NCRLT."