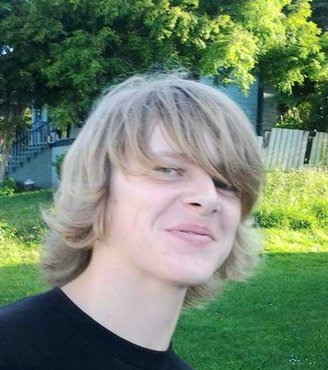 Dylan Brett Barber
March 4, 2000 - May 25, 2021
On Tuesday, May 25th, 2021, Dylan Brett Barber, loving son and brother passed away at age 21.
Dylan was born on March 4th, 2000 in Eureka to Michael and Athena Barber. The first born of twins, Dylan made quite the entrance in this world, as he and his twin were born six weeks premature. This became a trend for little Dilly, always full of life and adventure.
Dylan was such a happy baby, no matter what he was going through. At one day old, he was flown to UCSF for bleeding complications and was diagnosed with Alpha 1 Anti-trypsin Deficiency, a deficiency that effects the liver. At 5 years old, Dylan's health miraculously improved and his liver was no longer an issue. At 7, he became swollen and ill and it was then that he was diagnosed with Nephrotic Syndrome. It is this syndrome that led to his loss of life at such a young age. As a child, Dylan earned the nickname "Dilly did it" as he always seemed to be in the middle of some adventure. A chorus of "Dilly did it" sung out by his siblings could be heard frequently throughout the house. As Dylan grew up, he was very set on living life his way — a strong-willed, free spirit, just like his Grandpa Cliff. Although, Dylan's zest for life had its share of trials and tribulations, he always remained true to himself and had a great heart. His entire face lit up when he smiled and his smiles were genuine.
Dylan is survived by his mother, Athena Barber; brothers, Hunter Barber, Drake Barber, Rowan Barber; sisters, Laura (Donnelle) Barber (and children, Messiah and Malakai), Lena Cross and Charlee Bowen and step-father Charles Bowen; his aunt Tanya Parker, great aunt Nancy Hall, great uncle Tom Burghart and grandfather Herb Barber. There are also more aunts, uncles, cousins and friends too numerous to mention that Dylan leaves behind.
Dylan is preceded in death by his father, Michael Brandon Barber; baby brother, Ferin Barber; grandfather, Clifford Andersen; grandmother, Laura Burghart; and great-grandmother Violet Barber.
We are planning a celebration of life on Saturday, June 5 at 3 p.m. at 20/30 Park. Close family and friends who have been immunized are welcome to start gathering an hour prior at my home to share memories with the kids as the little ones will not be able to make it to the park.
A special thank you Celine Pele of Eureka Community Health Center and to Hospice of Humboldt. You guys are amazing!
A thank you also to Seth from Humboldt Cremation. I am so grateful for all your help!
He had a smile on his face and a constant positive attitude that never changed.
Dylan, I love you so much. Your momma, Athena.
###
The obituary above was submitted on behalf of Dylan Barber's loved ones. The Lost Coast Outpost runs obituaries of Humboldt County residents at no charge. See guidelines here.