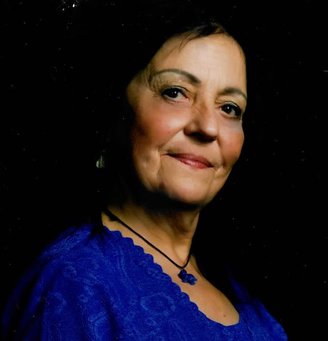 Sandra Lynn Sanderson
February 10th, 1946 - April 24th, 2021
Sandra Lynn Sanderson, long-time resident of Eureka, died on April 24, 2021. Her family members and friends rallied around her to provide her care during her 18-month fight against several illnesses as she transitioned from hospital to nursing care to home and back and forth several times.
Sandy was born to Mary Milevoi and Gustie Drimones in Hudson County, New Jersey, and received by her great grandparents who came from Greece and Austria. Originally named Cassandra by her father, she went on to be known as Sandra by many, and by Sandy with her closest friends and family. She grew up on the beaches of the New Jersey shoreline eating baloney sandwiches and enjoying time with cousins and other extended family. Beginning in childhood, she had a lifelong love of horses, dogs, other animals, and dancing, including performing in the color guard as a teen. She graduated from Weehawken high school and went on to junior college in New Paltz, upstate in New York. She also enjoyed time working at Rocking Horse Ranch in Highland, New York where she met her first husband, John Holland. Though their marriage did not work out, she gained a lifelong love of the outdoors, as well as a zest for taking on career challenges to do exciting things.
Following her time in New York State, she joined the US Marines during the Vietnam era, which is when people referred to gals like her as "women Marines" rather than just Marines. After her service, she took the advice of some veteran colleagues and entered the US forest service. She worked full-time for 10 years for the USFS and put in one year part time for the park service. She enjoyed a lot of time working in fire suppression and management, as well as in recreation. Initially, she was stationed to Minnesota in the northern lake region, but found the giant mosquitoes daunting, so she transferred to Southern California to fight fires in the Tujunga area, in canyons surrounding Los Angeles. She was one of the first women to be in fire-fighting in the USFS. While there she also attended Glendale junior college and got an associate degree in liberal arts. She loved writing – and even started to try out to become a California Highway Patrol officer – but discovered that her biggest love was really being in the woods and connected to the forest. Some of her most beloved memories come from her time working in Tujunga, as well as in Hayfork (Engine Crewman Gs 2, 3, 4) and Big Barr (Engine Operator). A treasure for her, aside from hiking up extraordinarily steep grades with 75-pound pack on her back, was being able to have beautiful moments seeing wild bear and other critters in the woods, as well as having spirited conversations about nature with her coworkers.
After relocating to the Redding area and working near Big Bend and Shasta Lake, she met the love of her life, Vaughn Sanderson, who also worked in fire for the forest service. They married in 1989 and had a son, Ethan. Ethan quickly became the center of Sandy and Vaughn's universe, and the love of their lives. The family enjoyed living in several locations in the beautiful area defined between Eureka and Redding and up to the Oregon border before finally settling in Eureka. Having run up and down steep mountainsides for so many years, Sandy's knees eventually did not allow her to continue that work and so she transitioned into work in accounting and other support roles outside the USFS. She enjoyed making many great friends with staff and clients at Humboldt Community Access and Resource Center (HCAR), Sequoia Park Zoo, and the North Coast Dance Company. She also loved connecting with her church community at the Eureka Faith Center, particularly as they helped her heal after the unexpected death of her husband Vaughn.
Throughout her time in Eureka, Sandy danced as a hobby and for exercise, in addition to her regular swims. But she absolutely fell in love all over again with the folks at North Coast Dance Company. Each year for more than a decade, she relished time being in the annual Nutcracker, working with young dancers, and watching dancers develop. She performed in many shows doing different kinds of dancing, including belly dancing with a sword on her head, and getting to wear gorgeous costumes. But her favorite role ever was as the dancing bear in the Nutcracker, bringing together her love of dance and wildlife in one activity.
In reflecting on her life, she talked a lot about loving family, friends, her animals, and dance. She also hoped that some of the work she did crashing through carrier barriers helped other women take chances in nontraditional careers. Even in her last year of life, she remarked on how her work in fire for the USFS was some of the most exciting work she had ever done. She loved every inch of California too, and enjoyed meeting other spirited, determined, and adventurous people everywhere she went.
Sandy was preceded in death by her grandparents, parents, and husband Vaughn. She is survived by her son Ethan Sanderson, sister Karima Barbara Gari, her nieces Nancy Piotrowski (who she lured to live in California decades ago to share in adventures), Danielle Lucarello, and Dena Balderacchi, great-nephew Tristan Balderacchi, and great-grandniece Arya Balderacchi, as well as cousins and other extended family on the East Coast, and dear friends all over the country.
Afterlife care was entrusted to Humboldt Cremation. In lieu of flowers, anyone wishing to honor Sandy with a donation in her name should donate to one of her favorite charities, the Sequoia Humane Society in Eureka. The family notes that in heaven, Sandy will of course be greeted by her relatives, but they also expect there will be more than 50 of her pets waiting for her love and affection at the pearly gates.
A celebration of life will be held at the Eureka Faith Center at 1032 Bay Street in Eureka on Saturday June 12; door opens at 10:30 a.m., service runs 11-11:30, and a reception will follow at 11:30 a.m.
###
The obituary above was submitted on behalf of Sandy Sanderson's loved ones. The Lost Coast Outpost runs obituaries of Humboldt County residents at no charge. See guidelines here.