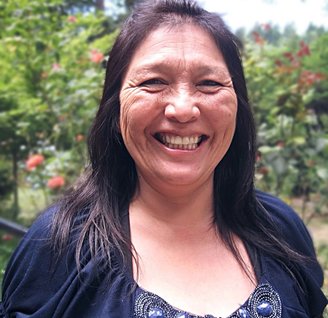 Debra Elaine Sherman Albers more commonly known as "Debbie" crossed over on March 2, 2021 at her home in Loleta. She was born on July 25, 1966 in. She was a proud member of the Bear River Band of Rhonerville Rancheria.

Debbie had a heart of gold and a smile to reflect that. She was a caring mother, grandmother, and friend to all. She greeted everybody with her open arms no matter who you were. Debbie loved spending time in the kitchen, creating delicious meals and baked goods for her family and friends. She was especially known for cooking the best Spanish rice and peanut butter cookies. One of her proudest moments was conquering and remastering another recipe. When it came to cooking up a storm in the kitchen there was no doubt that she was truly uncontested.
Debbie was not a hard person to find matter of fact, you would find her more times than not. She was notorious for walking with multiple bags flung over her shoulders. For if she has somewhere to be, she would get there regardless if she had to walk ten miles and catch four different busses to get there. She was a determined, goofy, free spirited soul and would walk as far as her little feet could carry her, and then some.
Debbie will be remembered for attending council meetings, cultural ceremonies, and sporting events. She truly lived for social interactions and self development. She loved her watching her children at sporting events. Debbie would fill the sporting arenas with her loud laughter and loud cheers, as that was her in her element.
In Debbies younger years she attended beauty school in Eureka, where she learned skills that she generously provided to anybody in need of some beauty. Debbie was an avid competitor on the daily quiz radio channel "Cool 105". She would listen to that station every morning no matter how loud or who was asleep.
Debbie did not have a lazy bone in her body, for if you needed help she would be there at the drop of a dime, regardless of who you were and the situation you were in. Debbie made it her life destiny to make sure all was loved, and for that she will truly be missed by many.
Debra Elaina Sherman Albers is survived by her children Delmar Donahue, Edwin Donahue Jr (Zance), Derek Donahue, Clifford Albers jr, Shannon Albers, Elaina Albers and Dentillia Albers. Grandchildren Kidiwische Donahue, Naomi Donahue, Raymee Donahue, Neisha Donahue, Marissa Donahue, Tyler Donahue, Quintin Donahue Jr, Shirley Anne Donahue, Damian Ike Donahue, Eliza Albers, Numikoy Albers, Abalone Albers, Adalina Arias and many many cousins aunties and uncles.
She is preceded in death by her father and mother Duane and Elaine Sherman, Grandma (mom) Beverly James, Grandpa Cecil Sherman Sr, Her husband Clifford Albers Sr, and Former Partner Gus Donahue.
Paul Bearers - Denny Sherman, Gusto Bowie, Rick Moorhead, Richard Moorhead, Art Moon, Wayne Moon, Joe Sherman, Darrell Sherman, Jess Sherman, Douglas James, Melvin F Farmer III, Zanz Donahue, Delmar Donahue, Quintin Donahue Sr, Derek Ike Donahue, Clifford Albers, Shannon Albers, Jim Bowie, Rhys Arias.
There will be a wake Thursday, March 11, 2021 at her residence in Loleta at 5:30 p.m.
Her services will be held Friday, March 12, 2021 at the Bear River Recreation Center at 11 am. She will then be laid to rest at Sunset Memorial in Eureka. A Reception will follow at the Bear River Recreation Center.
###
The obituary above was submitted on behalf of Debbie Albers' loved ones. The Lost Coast Outpost runs obituaries of Humboldt County residents at no charge. See guidelines here.