After being caught in bed with 16-year-old Shelly Moon, Mauricio Sanchez-Johnson pulled a handgun and shot Shelly, her mother and her mother's fiance, according to an affidavit for a search warrant issued in Utah.

"Mauricio Johnson was 'getting with' a girl when the girl's stepdad walked in," Sanchez-Johnson reportedly told a witness. "The stepfather started 'getting tough' with Mauricio Johnson so Mauricio Johnson pulled out his gun and shot him. The girl's mother walked into the room and Mauricio Johnson shot her. Mauricio Johnson then shot the girl because he didn't want any witnesses."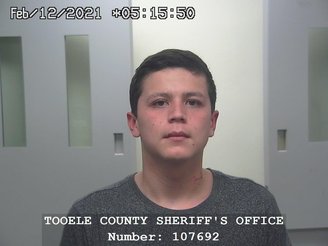 Shelly Moon, her 40-year-old mother Margarett Lee Moon and Margarett's fiance Nikki Dion Metcalf, 40, were all shot in the head. Shelly Moon and Metcalf were dead when emergency crews arrived at the home on Carroll Road in the Bear River Rancheria. Margarett Moon was taken to a hospital, where she was declared brain-dead and died shortly afterward.
The affidavit was written by Sgt. Branden Davis, a Utah law enforcement officer who was seeking to search Sanchez-Johnson's vehicle. It was seized in Utah after he was arrested there the day after the killings. Davis relied on information provided by Humboldt County District Attorney's Investigator Scott Hicks.
Sanchez-Johnson, who turned 19 on March 1, remains jailed in Tooele County, Utah, and is fighting extradition to California. His mother's boyfriend Von Eric Keener, who was in Sanchez-Johnson's vehicle when he was pulled over on Interstate 80, waived extradition and was booked into Humboldt County Correctional Facility on Tuesday.
On Feb. 9, Shelly Moon had invited some cousins over, according to the affidavit. About 3:30 a.m. on Feb. 10, it was discovered the kids were drinking alcohol.
"Margarett Moon was upset and had broken a liquor bottle in the hallway of the residence," the affidavit stated. This information came from Shelly Moon's 13-year-old sister, who was in the home that morning.
Not long after the drinking had been discovered and the cousins' mother came to pick them up, the 13-year-old's younger brother told her "Nikki Metcalf had observed a male subject in (Shelly Moon's) bedroom. The male subject was on top of (Shelly). Nikki Metcalf hit the male."
It wasn't until about 8 a.m. that the 13-year-old called 911 to report she'd found her sister, mother and Metcalf were "bleeding out" in the bedroom. Investigators found 9mm shell casings and a bullet in the room.
According to the affidavit, after the shootings Sanchez-Johnson was panicked and nearly hysterical, barely able to form a coherent sentence. Witnesses said he kept crying and apologizing, saying "I wasn't thinking" and "I did something." His clothes were bloody and he was carrying a pistol.
At some point Sanchez-Johnson, accompanied by Keener, drove off in a white 2008 Toyota Highlander belonging to Sanchez-Johnson's mother. The mother, Melissa Sanchez-Johnson, followed them in a 2014 Chrysler.
Law enforcement was able to track the Toyota because the auto dealership had placed a tracking device in the vehicle when it was purchased.
Both vehicles were pulled over the next day in Tooele County, Utah, though the Utah Highway Patrol had to use spike strips to stop the Toyota.
According to Davis, who wrote the affidavit, a search of the seized vehicles yielded two two-way radios, five cellphones and two computers.
Melissa Sanchez-Johnson was detained but released.
Her son's next hearing is on March 16 before Third District Court Judge Dianna Gibson. He is represented by a public defender in Utah, and attorney Andrea Sullivan has been hired to represent him locally.
###
PREVIOUSLY: