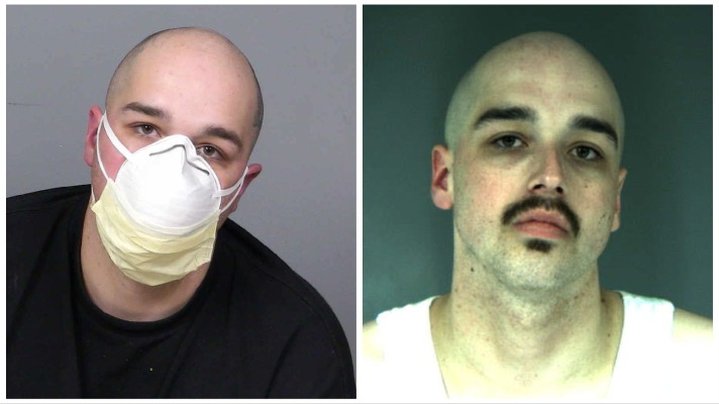 Robbery suspects are typically known for wearing masks before they're arrested. Eureka man Aaron Aubrey put his on afterward.

Readers took notice when a booking photo of Aubrey wearing a surgical mask and a respirator over his face was used in a Humboldt County Sheriff's Office press release on Tuesday. The image raised questions about the validity of a booking photo where the suspect's face is unrecognizable, so the Outpost reached out to HCSO spokesperson Samantha Karges to ask why such a photo was taken.
"Mr. Aubrey told [correctional deputies] that he had been exposed to COVID through a close relative prior to his arrest," Karges said. "Out of an abundance of caution to protect staff members and other inmates in our processing area, [deputies] required Mr. Aubrey to keep his mask on during his booking photo."

Karges added that Aubrey's masks were provided by the sheriff's office per the on-site medical staff's recommendations and that inmates cannot typically request to remain masked for booking photos.
"Booking photos are an important part of the booking process," Karges said. "A booking photo serves many purposes, including providing a photographic record of an inmate in our facility, documenting appearance at the time of arrest, and providing a record of investigative value for current, past or future crimes/investigations."
While Aubrey's mug shot is a less-than-distinguishable, Karges said that an unmasked photo of him may not be necessary.
"I cannot say for sure whether another photo will be taken of Mr. Aubrey," Karges said. "We do have several others of his on file from previous bookings, so it may not be necessary to take another. However, if an updated photo benefits any further criminal investigation, then we will do so."
Aubrey has since been placed in a 14-day quarantine, as part of the HCSO's standard COVID-19 booking procedure.