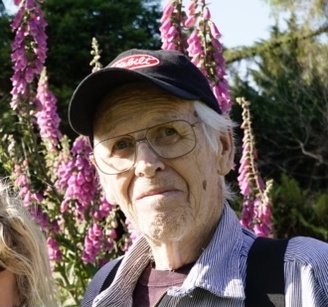 James (Jim) Vigo Andersen peacefully passed away in the early morning hours of March 10, 2021 after a long, hard fought fight with cancer. Jim was born in Arcata and lived in the Trinidad and Orick area for most of his 80 years, leaving behind several lifelong friends, as well as family.

Jim spent 39 wonderful years with his wife Laura Jean raising two daughters at their family farm near the ocean in Trinidad. During this time, he worked in the logging industry, both as a logger which he loved, and at times running his own business. He was able to work in logging for 50 years, often times outpacing men half his age.
As a widower, he began to share his life with Virgie 20 years ago, extending his love to both her and her family, becoming "Papa Jim" to the younger members of the family. He became a very important part of the family and will be missed by all. During the last 11 years, with the support of Virgie, he transitioned from logging at the age of 69 to purchasing a towing company and driving tow trucks based out of Orick. One of his greatest joys was when his grandson Ryan joined him and became a partner in the business. Being able to work with his grandson made a good life even better.
We thought we were going to lose Jim over a year ago, however, he made a goal of being with us to see his grandson Josh graduate and become a sheriff and the newest member of his family, baby Heidi, born at the lowest point of his battle with cancer, walk.
Jim was a kind and loving man with a love of life, family, friends and his dog, Sweet Pea. He was a big man, with a big heart; a man that his daughters were proud to have as their Dad. To quote someone lucky enough to know him as Papa Jim "he gave the biggest hugs". Anyone that needed help knew they could always count on him. If you ever wanted to see Jim light up, just ask him about his kids, grandkids or great-grandkids.
Jim is preceded in death by his wife Laura Jean Andersen, his parents Verda and Viggo Andersen, his brother Floyd Elwood, his son-in-law Allen Freitas, and granddaughter Danielle, sisters Delores and Madalyn.
Jim is survived by his long-time companion Virgie Parker, his daughter Sabrina and her husband Bob Boyer, his daughter Lisa and her husband Darren Brittain, grandchildren; Ryan, Josh, Dustyn, Skylar, Macie,Travis and great-grandchildren Abby, Hunter, Caleb, Ava, Kiana and Russell.
The family and Virgie want to extend a special thank you to Doug Cobb for being there for Jim in both comfort and the support required to allow him to be at home with his loved ones when he passed.
A memorial will be held at the family farm once the weather clears. Anyone wishing to do something in memory of Jim just give away a hug to someone that needs it, continuing his legacy of the best hugs ever.
###
The obituary above was submitted on behalf of Jim Andersen's loved ones. The Lost Coast Outpost runs obituaries of Humboldt County residents at no charge. See guidelines here.