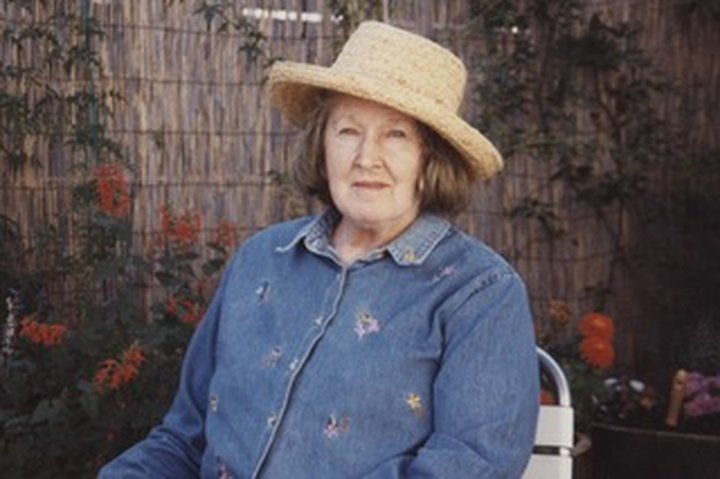 Barbara Leigh Lake, a longtime Eureka resident, passed away on January 6, 2021 at the age of 90. Barbara was a member of the Brett family, descendants of County Clare, Ireland. She was predeceased by her parents, E. Constance (Brett) and Walter James Price, her brother Kenton Price, her baby sister, Beverly, her companion kitty, Lucy, and a motley crew of stray cats over time. Barbara was kind and gentle and never met a feathered or furry friend she didn't like.
Barbara was a volunteer and "Official Petter" at the original Riverwalk Veterinary Clinic in Eureka, where she would often visit and was fascinated by the medical procedures. She helped to calm frightened animals, for which she had a unique gift.
Barbara had a sign at the front door of her house that read "All Strays Welcome." Stray cats were always offered food, and often ended up sleeping on her bed! She cherished Tula, Williams, Freddie, Montesquieu, Jasmine, Puff, Lucy and Patches. Barbara also fed the birds and had a favorite crow, Ivan, who would visit her daily for a handful of seeds.
Barbara loved nature – flowers, plants, animals and pets. She lived the first 8 years of her life surrounded by nature living in a remote log cabin in the Trinity Mountains, along with her parents and brother. Spending her formative years in the wilderness gave her a lifelong affinity for nature. She could name every flower she saw and would take her children "window shopping" at nurseries when they were young, explaining the different plants and planning for the garden she hoped to grow someday.
Barbara also had an artistic flair and when she was young won first place in a city-wide art contest. She was also a talented writer. She took an English class at College of the Redwoods and her instructor, Professor Lindley, was so impressed with an essay she wrote on growing up in the Trinity Mountains that he asked her permission to include it in an anthology he was publishing.
Barbara was intensely proud of her Irish heritage. Her ancestors fled County Clare, Ireland during the famine and settled in Trinity County, establishing a large peach orchard and boarding house in Willow Creek. In fact, 15th St. in Eureka was once named Brett St., and the name is still visible pressed into the concrete at the corner of "D" and 15th Streets, in honor of Barbara's great-grandfather, a respected local businessman. "Brett's Peaches" were known throughout Humboldt and Trinity Counties for their flavor and quality. Barbara was interred at Greenwood Cemetery in Arcata on February 22, 2021, where she joined her mother, grandparents, great-grandparents and other relatives.
But most of all, Barbara was proud of her children. She clearly considered them her greatest accomplishment. Barbara had the Irish gift of gab, and she never missed an opportunity to tell others about her children. Her eyes lit up when she spoke of them. She cherished their successes and was pained by their sorrows. Barbara raised her children to be good citizens and to contribute to their communities. Molly is an alumna of UCLA, and served as Director, Office of the Governor of California, Los Angeles Office. Don is an alumnus of Humboldt State, and was a vintner in the Napa Valley. He won numerous awards including Best of Show for his varietals at the California State Fair. Laura is an alumna of U.C. Berkeley and is a law professor at Georgetown Law Center in Washington D.C.
Barbara had many friends and acquaintances. She had a sweet, rather naïve and trusting personality that drew people to her. Despite considerable hardships in life – especially losing her own mother at age 13 – she never grew bitter or cynical. She continued to take delight in small things: new spring flowers, a nest of baby birds, a hummingbird or dragon fly, and the many stray cats that wandered into her life and heart.
Barbara had an impact on all of us – her wit, her compassion, her sense of justice, her love of nature and animals – those things have become a part of those who knew her and thus they will have a part of Barbara with them forever. She was deeply loved and will be sorely missed.
Family members may be reached at barbaralake707@gmail.com.
###
The obituary above was submitted on behalf of Barbara Lake's loved ones. The Lost Coast Outpost runs obituaries of Humboldt County residents at no charge. See guidelines here.