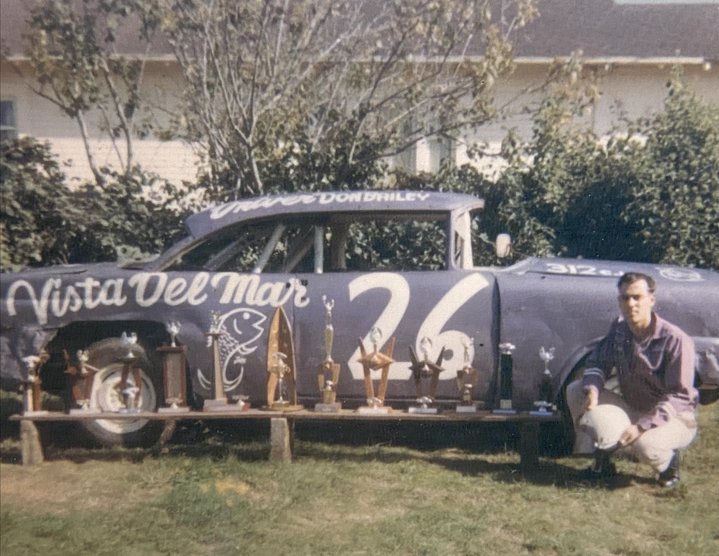 Donald Vance Bailey was born in Oakland on January 15, 1938 to Irtle and Mabel Bailey. He passed away in Fortuna, California after a brief illness on February 4th, 2021. Don departed surrounded by his girls, all of whom he loved dearly.
The Bailey family travelled from Iowa to California during and after the Great Depression, eventually settling in Humboldt and Trinity Counties with their three young boys. Bailey Canyon in Ruth Lake, so named for their family, was one of Don's favorite places to be and a memory he made sure to share with all his family. Camping, fishing, and a love for the great outdoors were staples of Don's personality and a driving force for his never ceasing sense of adventure.
Don grew up primarily in Eureka, attending Eureka City Schools. During high school, Don worked for the Harry Masali Food Mart in Eureka as an apprentice and eventual journeyman Meat Cutter. He was also employed during this time as a surveyor for the City of Eureka. He was set to be a member of the Eureka High School graduating class of 1956 however, always the one to never sit still, convinced his parents to allow him to join the United States Navy in January 1955.
Don proudly served his country and was honourably discharged from active duty on January 14, 1959. He continued to serve in a reserve capacity, officially completing his service to the United States on January 30, 1963.
Returning to Eureka, Don worked for Mission Linen and was often found on the racetracks of Redwood Acres with the Six Rivers Racing Association. Don championed the "Street Stock" division, winning several trophies and titles during his many years as a racer. Sponsored by local staples Vista Del Mar and Myrtlewood Lounge, Don equated those years racing to be some of his happiest. Don left the track in 1973 on a high note, taking home the championship in his division for the season.
After Mission Linen Don worked as a foreman for Simpson Paper until its close in 1992. From there he moved to Meeker, Colorado with his wife Barbara and began working as an electrician for a local power plant. Don loved the challenge of Colorado winters and the lush summers full of camping, fishing, and great times with family. Don could be found most summer nights sitting on the porch, enjoying the beautiful views of the mountain ranges and holding his signature red Solo cup. The local chipmunk population was especially grateful for his company, as he had trained all his grandchildren to hand-feed them corn. Little moments such as these were the most important to him.
The next adventure took Don to Klamath Falls, Oregon where he again worked as an electrician. Being this close to home though brought back his desire to return to Humboldt County, which he did in the early 2000's. Setting up home in Redway, Don enjoyed teaching his grandchildren how to garden vegetables and feed the ever growing (thanks to him) resident turkeys. After a few years in Southern Humboldt Don decided to return to "town," moving back to his beloved Eureka. Adventure called again a few short years later, with Don returning to Ruth to reside for the last time. He had wonderful times camping and hunting with friends and his son Shawn.
With the demands of the winter season becoming too much, Don decided for the final time to return to Eureka. The great adventure had finally come to an end.

His final years spent with family were some of his best. In the last few days Don went on special drives with his granddaughter Brittaney, taking historical tours around Eureka and talking about "what was".

He will be missed.

He is preceded in death by his parents, his eldest brother Lloyd Bailey, and his beloved step-son Shawn Fitzpatrick. He is survived by his brother Walter (Nadine) Bailey, niece and nephew Elizabeth and Justin Bailey, as well as great-nephew Donald Bailey. Sister-in-law Phylis Bailey, niece Pam Berington, and nephews Mike and Matt Bailey. Cherished step-daughters Samantha Stidston (Jim) and Robbin Samuelson (Ryan). Grandchildren Shawn Fitzpatrick, Rachelle Killian (Dennis), Brittaney Lewis, Katherine Stidston, Alexandria Lewis, and Riot Samuelson. He also leaves behind several great-grandsons and daughters.

Don is also survived by the two women whom he chose to share his life with — his first wife, Garnet Bailey, and his second, Barbara Bailey.
Don had an abundance of friends and acquaintances he acquired through his many years living in the greater Eureka area, as well as through his memberships with such organizations as The Moose Lodge (#636) and The Elks Lodge (#652). He will be missed by all.
The family would like to express their deepest appreciation to Brandy and Sarah of the DANCO Group for their friendship and dedication to Don, not only before he passed away, but to the family after. To Felicia and the amazing staff of the PCU at Saint Joseph Hospital for their wonderful care. We would also like to thank City Ambulance of Eureka, Hospice of Humboldt, and Nation's Finest of Eureka, who provided invaluable resources and support to Don and many other veterans.
Services will be held privately at a later date. In lieu of flowers please consider making a donation to a veteran-in-need via Nation's Finest.
Online: https://donate.givedirect.org/
By Mail: 2455 Bennett Valley Rd. C105
Santa Rosa, CA 95404
By Phone: 1-833-GOT-YOR6

I love you very much. Thank you for being my Papa.
###
The obituary above was submitted on behalf of Don Bailey's loved ones. The Lost Coast Outpost runs obituaries of Humboldt County residents at no charge. See guidelines here.