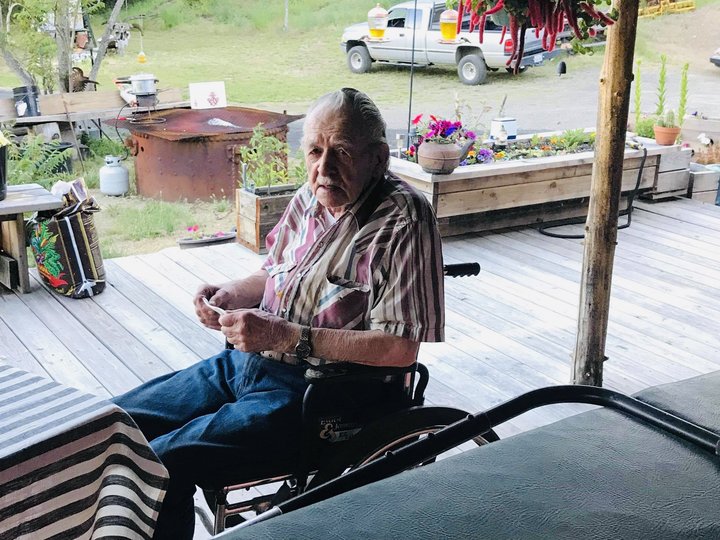 Donald Adolph Straw was born on June 7, 1929 in Kelso, Washington. He passed away on Tuesday March 16, 2021 in his home in Mad River. he was 91.
He is survived by his wife, Roseann (Rosie).They were married on December 23rd, 1960. They were married for 60 years.
He was preceded in death by his sister, Juanita, who died in childbirth, and an infant daughter, Michelle Lorene, who they lost in a house fire in 1971. She was 13 months old.
He leaves behind his sister, Alice Wilson of Shasta City and his sister Bertha Michalak, of Anderson, his daughters Crystal Jakubczak; Jan Straw; Jeannie Rush (Pat) and a son, James Straw. he leaves behind six grandchildren and ten great grand children; Joseph Spatafore (Mary Jo) and their daughter, Alexandria; Robert Spatafore(Heather) and their children, Nicholas, Monica and John Henry; Jason Spatafore (Christine) and their children, Kelly and Jameson; Matthew Jakubczak; Jesse Meyer (Brigitte)and their children, Wyatt and Natalee; Brian Meyer; Jade and Jazmyne Straw.
He graduated from RH Long High School, Longview Washington. After high school, he worked at a Gas Station in Eufaula, Wash., for his father-in-law, at the time, who owned the store and gas station. At some point, he moved to Eureka and drove a Taxi Cab. He also worked for the local newspaper in Eureka.
He became a part of the Southern Trinity community, working as a logger in 1961. He decided to become a resident of Mad River in 1964. He spent his time as a loader operator, woods boss and a logging truck driver for Three Rivers Logging Company, owned by Graham Cottrell. He became a Master Mechanic for Twin Harbors Lumber Company in 1972. After the lumber company shut down in 1979, Don started his own business called S.T.R.A.W.S. Southern Trinity Repair And Welding Services. Which also included a towing service.
He put many years into the work force of his community. he acted as the 5th district Supervisor for 4 years in 1980-1984. He was a big part of establishing the RLCSD (Ruth Lake Community Services District), along with the Lions Club and the Volunteer Fire Department. He was a member of the Ruth Riding and Roping Club. He and Rosie spent many years working at the Rodeo Grounds, when the Club used to put on the Ruth Rodeo and Logging Show. He was the Chairman of the Ruth Rodeo for the Lions Club. He was president of the Six Rivers Senior Citizens and President of the Volunteer Fire Department.
Don was active in the Lions Club for 44 years, being the last charter member. He was acting president for the Lions Club in 1979 and also the chairman for the Ruth Rodeo for many years. He was the Grand Marshall of the Ruth Rodeo in 2004.
Don helped to start the Southern Trinity Health Services. Don, along with Jim Delaney and Don Perry, purchased an ambulance, before S.T.A.R. And put a lot of repairs into it, but every time they were going to transport a patient, it would break down. As the story goes, that Ambulance is in a ditch somewhere on Don's property.
He also sponsored numerous drivers for the destruction derby, over in Hayfork, at the fairgrounds.
Graveside services will be held on April 9th at 2:00 at the Mad River Cemetery on route 1. In lieu of flowers the family is asking for donations to the Southern Trinity Volunteer Fire Department, P.O. Box 16, Mad River, CA. 95552.
Don will always be remembered as someone who got things done and always followed through with what he said he would. He will be remembered fondly by his community. He is on a new journey where he is free to run and not get weary.
###
The obituary above was submitted on behalf of William Allen's loved ones. The Lost Coast Outpost runs obituaries of Humboldt County residents at no charge. See guidelines here.