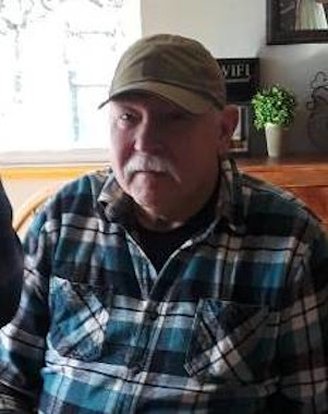 Frank Sanderson
Sept. 1, 1954 - March 11, 2021
Frank Sanderson passed away at his home on March 11, 2021. He was recently diagnosed with stage 4 cancer.
Frank was born in Salt Lake City, Utah, to Frank and Gladine Sanderson. Frank lived in Colorado, Weott and Stafford. His family moved to Scotia in 1965 after the 1964 flood.
He attended kindergarten in Uranvan, Colorado. His family relocated to Weott, where he attended Agnes J. Johnson Elementary. While his family was living in Stafford, he attended Scotia Union Elementary. He graduated from Fortuna Union High School in 1972. He later attended College of the Redwoods to take vocational and welding classes.
He was employed at the Scotia Inn during high school as a busboy and worked his way to a waiter. In November of 1972, he was hired by Pacific Lumber Company. He worked his entire career at PALCO in the factory. First he was a glue man, and then he worked himself up to being the lead man for the factory millwright shop. He was a dedicated employee and worked tirelessly at his job — many, many, long hours. He became disabled and could no longer work in September 2004. He became an active member of the Scotia Volunteer Fire Department in 1978. He first started with the service company and was later promoted to an Assistant Fire Chief. He was presented with the Firefighter of the Year award in 1998 at the SVFD Annual Dinner. He was also one of the pioneers in starting the rope rescue team at the department.
He was a man of a number of hobbies and interests. In his younger years, he enjoyed steelhead fishing on the Eel River, backpacking in the Marble Mountains/Trinity Alps, hunting for deer at Rainbow, and music. He later developed an interest in cooking/baking and gardening.
He was preceded into the next life by his parents, Frank and Gladine Sanderson; his sister, Vanda; two nieces, Laurie and Sherry; and two great-nieces.
He leaves behind Carleen, his loving wife of 45 years, son Frank ("Chris"), daughter-in-law Melissa, granddaughter Mallory, grandson Gage, daughter Amber Sanderson and her partner Jereme Lenardo. He also leaves behind his sister Beverly in Joplin, Missouri. He also had four nephews, great-nephews and nieces, and great-great nieces and nephews and cousins he never got the chance to meet. He is also survived by his mother-in-law Beverly Taplin-Lewis and father-in-law Whit Lewis.
Frank had the utmost love for his family. His children and grandchildren, Mallory and Gage, gave him so much happiness and joy. He was also a man with deep Christian values and knew the Lord.
The family is devastated by Frank's passing. We will miss your dry sense of humor and everything you did for us as a family.
Very special thanks to the Scotia/Rio Dell Volunteer Fire Department for their valiant life-saving efforts. Also special thanks to Nathan McKnight, a family friend, who stood by the entire time in our time of need.
There will be no formal services. A private family gathering will be held at a future date. In lieu of flowers, please consider donating to one of your favorite charities. If you would like to send cards to the family, the address is P.O. Box 132, Scotia, Ca 95565.
###
The obituary above was submitted on behalf of Frank Sanderson's loved ones. The Lost Coast Outpost runs obituaries of Humboldt County residents at no charge. See guidelines here.