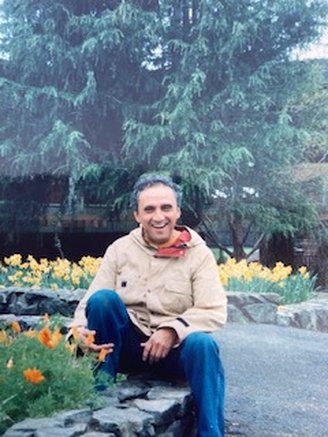 Floyd Lucas Sharp passed away peacefully on Saturday, March 6, 2021. He was born to Sylvia and Florentine (Tino) Lucero, on June 17, 1942, in Crested Butte, Colorado.

When Floyd was growing up, he loved to dance and learned many styles, including the Rumba, Cha Cha Cha, East Coast and West Coast Swing. Floyd attended Eureka City Schools graduating from Eureka Senior High School in 1960. Floyd continued his education with a degree in business from San Jose State University. He had a successful career with businesses including United Aircraft, Blue Cross of Northern California, and IBM before saying goodbye to the corporate world and burning his business suits. Floyd joined family in a traveling carnival where he was known for his kindness and friendships to fellow travelers.
Floyd was a man of faith. He loved the teachings of Jesus and conducted his life with the principles of Jesus's teachings. He was a very patient man and focused on the good in people. Floyd worked at the Mexican Outreach Missions in San Bruno, California. One of the many things that he did was obtain his Class A Bus Driver's license so he could transport building materials, food, clothing, and other supplies to the Mexican orphanages and churches.
Floyd loved to raise goats. When he was a baby he was raised on goats milk. Floyd claimed that it saved his life and vowed to raise goats after he retired. Floyd and his friend Eric, raised over 30 goats. Out of the goat milk, Floyd learned to make yogurt and several types of cheeses. He considered himself a Masters Goat Cheese Maker and was also President of the Humboldt Dairy Goats Club.
Floyd loved nature, walking through the woods, especially his childhood stomping grounds in Cutten and Ridgewood and swimming the local rivers. He stayed updated on local politics and would call members of the Board of Supervisors and City Council to express his opinions.
He is preceded in death by his mother Sylvia Areson-Boal, his fathers, Florentine Lucero and Orie Sharp, nieces Vicki Paulson-Reich, Jennifer Gifford, Amy Gifford-Brewer.
Floyd is survived by his sisters and brother, Wilma Paulson, Lee Gallaway, Carol Sharp, Jimmy Sharp, Glenda Grabow and Ardi Areson. His nephews and nieces, Robby Paulson, Phil Leazer, Terri Wagner, Troy Gallaway, Jason Williamson, Rebecca Moore, Tanya Sharp, Heather Grabow and Sarah Massaro.
He is also survived by a large extended family of cousins, great nephews and nieces. Floyd had a few close friends that he considered family including Patty Unseld, Byron Wrigley, Eric Naslund, and Richard Franks.
"Don't shed anymore tears for me for God has called me home. Even as a businessman, a carney, a roaming hippie and a farmer, God loved each of me the same. He opened up those Pearly Gates and welcomed me home, no matter the name. I'll be seeing each of you again someday. Remember our memories good and bad. This was God's Book One of me to help comfort you and get you through. Keep writing your story, until God calls you home. I will be waiting at the Gates of Heaven to see you again someday when your book is through. Don't think of this as the end. When we are together again, we'll write a book together in Heaven and call it Book Two." An excerpt by Jason Williamson.
Due to COVID Restrictions there was a private family viewing held on March 17, 2021. A private family memorial will be held at a later date at the family home in Eureka.
###
The obituary above was submitted on behalf of Floyd Sharp's loved ones. The Lost Coast Outpost runs obituaries of Humboldt County residents at no charge. See guidelines here.