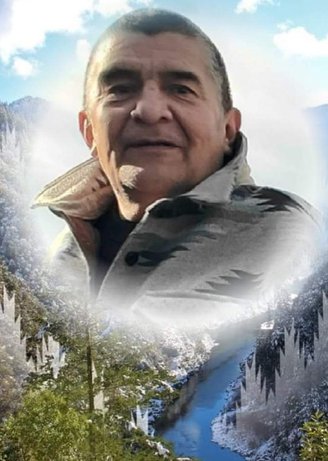 Roland "Branagin" Duane Davis passed away unexpectedly due to a blood clot and heart complications on February 28, 2021 at Mercy Hospital in Redding, with his daughters by his side.

He was born to Lloyd and Ester Davis in Hoopa, on June 22, 1961, and was preceded in death by his parents, Lloyd Davis and Ester (Randall) Davis, brother Nolan Davis and his wife (common-law) Gaylene Jackson. He is survived by his daughters Alice Mabry (Darrel Mabry), Janice Nixon, Kimberly Davis, Brandice Davis (Bob Kane Jr.), Lillian Davis and Angel Jackson-Donahue (John Donahue), as well as his grandchildren Clayton McCovey, Arielle Mabry, Jillian Mabry, Cheryllyn Pike, Phillip Pike, Laynee Nixon, George IV, Whikil Nixon, Leland Nixon, Gage Nixon, Maile Almodovar, Grace Kane, Athos McCovey, Clint McCovey and great-grandson Eliott Gurule.
Dad was a proud member of the Hoopa Valley Tribe and enjoyed fishing, eeling, mushrooming and hunting; as well as gold panning, collecting rocks, gambling, and wooing the ladies. Like his mother, dad had a "green thumb" and loved to garden and spent most of his time outdoors enjoying life to its fullest.
Dad was a very charismatic person who loved reminiscing about the good ol' days and could start a conversation with just about anyone. One of his best traits was his humor which, besides his looks, was the most dominant genetic trait that he passed to all of us. His children and grandchildren were the pride and joy of his life, and dad would use any excuse possible to talk about us and our kids to whomever would listen.
Roland spent the last few years of his life going on many adventures with his loving girlfriend, Cherie French-Bowie, who was always by his side. Cherie's family took him in as there own and loved him beyond measure even referring to him as their dad and grandpa. Dad will be forever missed but never forgotten by all those who loved him and enjoyed his company.
Pallbearers will be: Roland Dean Powell, Douglas Brown, Sylester "Flabs" Brown, Stanley Jones, Davis Jones, Paul "Ewee" Donahue III.
Honorary Pallbearers: Clayton McCovey, Phillip Pike, George Nixon IV, Darrel Mabry, Bob Kane Jr., Freddie Brown, Oscar "Oiler" Brown, Arnold Davis Jr., Darren "Abner" Randall, Phillip Donahue, Tristan Moon, Timothy Bussell Jr., Clarence Bussell, Jason Jones, Roger Bibancos, Gus Bibancos, George Moon, and Charles "Junior" Moon.
A wake will take place at Roland's home in Hoopa on March 5, 2021 starting at 5 p.m. Gravesite burial services will be at the Davis Cemetary in Hoopa on March 6, 2021 at 11 a.m. All Covid safety precations will be in place — mask up, wash hands and social distance as much as possible.
###
The obituary above was submitted on behalf of Roland Davis' loved ones. The Lost Coast Outpost runs obituaries of Humboldt County residents at no charge. See guidelines here.