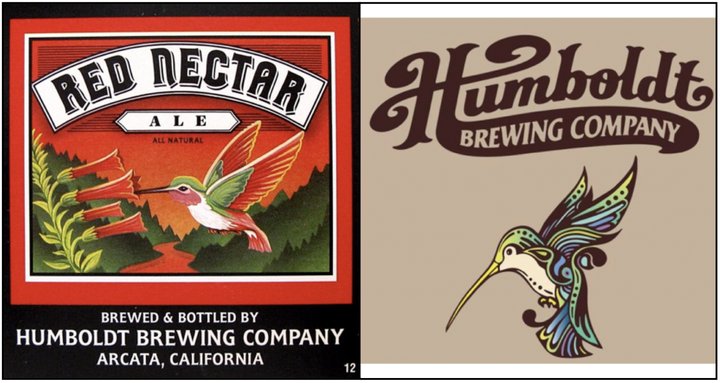 Longtime local beer drinkers are sure to be familiar with Red Nectar Ale, the at-one-time locally produced flagship brand of Humboldt Brewing Company that has passed through the hands of a few corporations and brewers since the rights to both the beer and brewery names were sold off, back in 2005. Well, thanks to a COVID-era deal inked by HumBrews owner Andy Ardell and his brother David, both Red Nectar and the Humboldt Brewing Company moniker have come homeboldt. Raise a glass, y'all.
"Yeah, it just kind of stumbled upon us," Ardell told the Outpost. "I caught wind of it all being for sale and I thought, let's bring it back to Humboldt and Arcata."
Humboldt won't have to wait long to taste the fruit of the Ardell brothers' efforts to reclaim its legacy. The first batch of the new Red Nectar Ale is already being produced at Six Rivers Brewery McKinleyville by seasoned brewer Carlos Sanchez, who just so happens to be one of the people who brewed the beer for Humboldt Brewing Company three decades ago, on the same equipment he still uses today.
"To be able to bring it back to Humboldt is special," said Ardell, who has owned HumBrews restaurant in Arcata for the past 17 years. "I've been telling people I know who know about Red Nectar, who are like, 'Oh my God!'"
The saga of how "Humboldt Brewing Company" and its beers slipped out of local control is somewhat complex. Originally founded in 1987 by brothers Vince and (former Oakland Raider) Mario Celotto in Arcata — in the same building HumBrews occupies now — Humboldt Brewing Company was the county's largest brewery at its peak in the early '90s. Appropriately, the brewery was one of the first in the country to brew with hemp, and HBC's Hemp Ale would go on to win a gold medal at the California State Fair.

But eventually the small-town success story would get complicated. In 2005, craft brewing giant Firestone Walker — who'd already been assisting Humboldt Brewing Company with its increased demand for Red Nectar Ale by brewing the beer at its larger facilities in Paso Robles — bought HBC outright, in the process dropping the "Humboldt" name in favor of "Red Nectar Ales."
Fast forward to 2012 when a South Carolina company named Total Beverage Solutions purchased Nectar Ales and decided to change the name back to Humboldt Brewing Company, a move that caught Ardell, who at that point owned the similarly named HumBrews in Arcata, off guard. After fielding a few confusing media inquiries wondering about the deal, Ardell contacted Total Beverage Solutions to see what was up.
"I called them and said, 'What are you guys doing?'" Ardell recalled. "And they said, 'Well, we changed the name back to Humboldt Brewing Company.' And I'm like, well, you're not the Humboldt Brewing Company."
But Total Beverage Solutions' Humboldt-washing plan proceeded. They did brew the Humboldt-branded beer in California — both Mendocino Brewing Company and Lost Coast Brewery even produced the stuff for periods — but in 2019 "Humboldt Brewing Company" was again up for sale at which point the Ardell brothers scooped it up.
"The goal was to bring the beer back to Humboldt where it originated and belongs," Ardell said. "The [Humboldt Brewing Company] offices now reside at HumBrews, which is the exact location where it started over 30 years ago."
And so, all is right in the world. Humboldt Brewing Company is Humboldt again. In the next few weeks Humboldt-brewed Red Nectar Ale is slated to flow from the taps of four local establishments — Humboldt Brews (of course), Six Rivers Brewery, The Madrone and The Local Cider Bar. In the coming months, the Ardell brothers plan to produce a second beer which harkens back to their brand's previous successes — they're calling it "Smoky Hazy Hemp IPA." Maybe look for it when you feel brave enough to go out again.