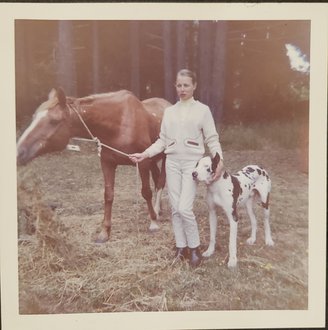 Born: Eureka, May 19, 1930

Died: McKinleyville, January 27, 2021
Parents: Emil Ludtke (Born in Germany) and Dora Schlobaum (Born in Minnesota)
Brothers and Sisters: Mary Greene. Elsie was preceded in death by her four other siblings: Trudy (Sis) Wilson, Walt Ludtke, Robert (Babe) Ludtke and Paul Ludtke.
Education: Eureka High School (Class of 1947/48), Humboldt State (1948-1950) and Mt Zion
Hospital/Nursing School in San Francisco CA (1950-1952), BSRN
Married: 1952 to 1977 to Robert (Bob) F. Kelly, born 1930, son of Sophie Harms and Frank Kelly of Eureka, CA
Children: Elyse (Blue Lake, CA) and Reed (Scappoose, OR)
Grandchildren: Elyse/Bob Becker: Misty Becker and Bill Becker; Reed/Rykie Shanahan: Reanne Kelly, Siobhan Kelly and Brendan Kelly
Great-grandchildren: Misty and Ben Garberson: Lily and Giselle; Bill and Rose Becker: Beau and Mason
Elsie was born and raised in Eureka. After attending Humboldt State for two years, she attended nursing school for two years at Mt. Zion Hospital/Nursing School in San Francisco where she earned a BSRN degree. In 1952, she married her high school and college sweetheart, Bob Kelly, after he had returned from the Philippines where he had been stationed while serving in the Navy during the Korean War. They moved around a bit while he finished up his service in the Navy (San Diego and Whidbey Island). After a few years living and working in the San Francisco area, they moved back to Eureka where they had both grown up, went to school (Eureka High School and Humboldt State) and had a lot of family and friends.
Elsie enjoyed both being active outdoors and animals. For many years, she was an avid snow skier at Horse Mtn. (a local ski area), Mt. Ashland and Mt. Shasta with friends and family. She also enjoyed horseback riding, including showing her prized Arabian at Redwood Acres. When friends could not join her horseback riding, she took her Great Dane with her. She also enjoyed relaxing in the sun and swimming with the family and friends in the summers outside the Eureka area such as Miranda and Garberville along the Eel River, as well as Shasta and Ruth Lakes. As she enjoyed the outdoors and was adventurous, she joined her husband on a few of his big game hunting trips in BC, Canada, Wyoming and Angola, Africa.
After Elsie and her husband divorced in 1977, she moved away and lived in Rapid City, SD for about 10 years. However, she came back to the Humboldt Bay area in 1988 and settled in McKinleyville, where she lived independently until her death. As her daughter, Elyse, and her children were in the Eureka area, she often visited and spent time with Misty and Bill watching them grow up. In her later years, she was fortunate to have Bill stay in the area and see him have children of his own.
She was a long time member of the Jehovah Witnesses congregation in McKinleyville which she greatly enjoyed and was the focus of her life. This congregation became another family for her and resulted in many lasting bonds and friendships over the years.
In her later years, she also became a recognized and good friend of some of the local birds which she enjoyed seeing and feeding, along with a stray and independent cat as well, which she eventually adopted. Over time, they both grew fond of one another, to the point that the cat would sometimes take walks with her.
Although she will be missed by family and friends, we all truly hope that she is now in the Kingdom that she and her faith believed in so greatly.
###
The obituary above was submitted on behalf of Elsie Kelly's loved ones. The Lost Coast Outpost runs obituaries of Humboldt County residents at no charge. See guidelines here.