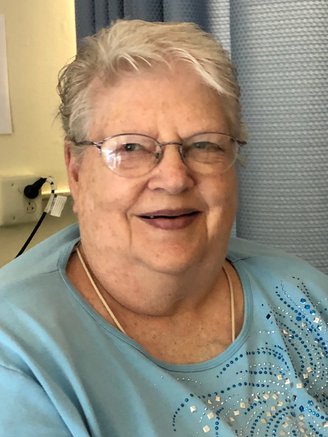 Jean Marie Henson

Born: July 15,1937
Died: February 28,2021
Born on July 15,1937 at General Hospital in Eureka to George and Dorothy Lampley of Kettenpom, Trinity County, where she lived and went to grammar school. Jean and her sister had to be boarded out into other people's care when they went to Fortuna Union High School. During high school is where Jean met the love of her life, Bennie M. Henson. Bennie was a year older than Jean. They dated in school and married after Jean graduated. Their wedding day June 30, 1956, was a happy occasion for Bennie and Jean. They lived in Fort Seward and had three girls — the first one born on May 26, 1957, on Bennie's birthday, the second November 4, 1958, on Jean's mother's birthday, and third on February 13, 1960.
They then moved to Klamath. Bennie became a planerman at the Klamath Mill. They lived a year there. On December 29, 1961 had their first son. Following the mill work, they moved to Fortuna, where Bennie worked at the mill in Carlotta.
Jean was a housewife in every since of the word, raising her children, making her children's clothes, raising a vegetable garden and canning all her own fresh vegetables, making all her own jams, and canning fresh tuna.
Hunting season would open up and Bennie would bring home his limit of two. Jean would process the meat and freeze it. On August 14, 1964 Jean had their second son. They bought and moved into their first real home on Clara Avenue, Fortuna, where they raised their five children.
Jean loved children and not only did she raise all five of her own, she babysat neighborhood children whose moms worked away from their home, as well as her sister's two boys.
Jean continued making her children's shirts, blouses, skirts and dresses, then started making quilts, coats and even knitted a few sweaters. She canned and processed Bennie Sr., and Jr.'s venison as well.
During the summer months when Bennie Sr. got his two-week vacations, they would load up the station wagon and off they would go to places like the Grand Canyon, Yosemite National Forest to see Old Faithful, Death Valley, Crater Lake, Mount Lassen and Mount Shasta. When it was warm in the summer months, Jean would take her children to the river swimming even though she herself didn't know how to swim. Thelma Miller's girls (their cousin's) one summer taught Jean's children the basics, how to float, dog paddle, etc., at the swimming hole below Blocksburg on your way to the Alderpoint Fire Station. Then to Swimmers Delight, or down at the river by Women's Federation Grove, or Grizzly Creek day camp for an afternoon hiking trails or swimming.
In August, the last month of summer, Jean would load up the station wagon and the little Jeep trailer with a tent and all the camp gear and spend the whole month at Grizzly Creek Campground or Albee Creek Campground, while Bennie Sr would commute back and forth to work at Carlotta Mill. Most of the time they would take a couple extra children with them.
Jean even became a camp mom during her second daughter's fifth-grade year end camp out at Albee Creek Campground. To this day she's remembered as, "Mrs. Henson, the camp Mom." As her children grew older, to have a little free time she let her children help out both sides of their Grandparents. Kettenpom would be bringing in the hay for the cattle and horses and their winter wood supply, helping out Grandma Lampley with her garden and orchard. Then out at Fort Seward, helping them with their winter wood supply. There was always an extra child or two that went along as well. In the fall during hunting season they would camp out with Bennie's parents up on Grizzly Mountain, at Watts Lake, Goat Camp or Waterdog Lake.
At Christmas time, they would all load up in the Jeep, stop at Fort Seward and pick up Bennie Sr's parents, as they had a Jeep too, and head for Grizzly Mountain. Stop at the forest ranger station and buy two tree permits. Head on up the mountain and fall a couple trees, one for us and other for Grandma Henson. Weather permitting, sometimes would set up an overnight camp. Jeep's back seats would come out on the ground for the littlest children. Grandma Henson would bring out a thermos of hot chocolate and one of coffee, light a camp fire and we would get to have s'mores and canned peaches.
On February 28, 2021, Jean Henson went to join the love of her life, Bennie M. Henson Sr, who welcomed her with open arms, and is now dancing around the ranch at Kettenpom, tending to her flower and vegetable gardens and the orchard.
Jean is survived by Beverley Miller (Shawn Miller); Julia Rundell (Ross Rundell); Bonnie Benson (Pete Benson); Bennie Henson Jr.; Bill Henson; seven grandchildren and 18 great-grandchildren.
Jean is preceded in death by: Bennie M. Henson Sr.; George M. Lampley and Dorothy M. Lampley.
Private family services are planned. Donations in Jean's memory may be made to American Heart Association.
###
The obituary above was submitted on behalf of Jean Henson's loved ones. The Lost Coast Outpost runs obituaries of Humboldt County residents at no charge. See guidelines here.