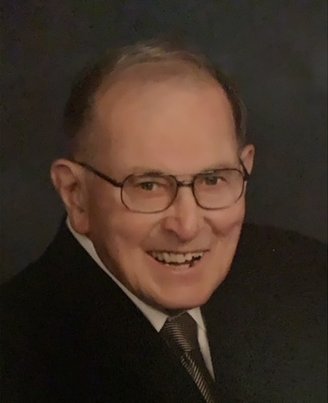 The Honorable Judge John R. Morrison passed away peacefully at home in the loving care of his family on Sunday, April 25, 2021.

John was born on March 15, 1933 in Eureka to Marcus F. and Elizabeth J. Morrison. He was a fourth generation Humboldt County native, a descendent of pioneers who settled in the Bear River Valley near Ferndale in the 1850s.
John attended grade school in Eureka at the Nazareth Convent, followed by two years at Eureka High School (class of 1950) and two years attending school abroad in Switzerland. He went on to receive a Bachelor of Arts degree from Stanford University and a Juris Doctorate degree from UCLA. Prior to earning his law degree, John served honorably in the Marine Corps during the Korean War. He was always proud to be an American and a Marine.
In 1959, he met and married Beverly Bauer, a Colorado girl. Throughout their 61 years together, John lovingly referred to Beverly as "My Bride." They made Los Angeles their home and began their family while he was attending law school. The pride and joy of his life were his three children and the families they established. With Beverly by his side, he provided a lifelong foundation of protection, positive encouragement and unconditional love for his family. In turn, he earned their unwavering devotion and respect.
In 1966, they moved to Eureka where he began a long and successful career in law as a respected attorney and judge. He joined the family law practice, working alongside his mother and brother at Morrison & Morrison Attorneys at Law. In 1975 he was assigned to the Garberville Judicial Court, concurrent with an assignment to the California Circuit Court for four years. Following that, he was elected to the Eureka Municipal Court where he developed a reputation for being a tough, fair and compassionate judge. He fostered relationships with people during his tenure as a judge, many who wrote to him expressing their gratitude for the way he changed their lives. He also provided a number of memorable wedding ceremonies over the years. Judge Morrison served a total of 37 years in a role he loved and was passionate about. After retiring, he continued to serve as a visiting judge in courtrooms from Crescent City to Sacramento. For him, it was never enough.
John had a unique gift of connecting with people from all walks of life – the innocent, the guilty, the poor and the privileged, the scholars and the technicians. These friendships were born naturally from his work as well as the wide variety of interests he pursued and engaged in with enthusiasm and zeal. Motorcycle racing, stock car racing, piloting a small plane, bird hunting, wine tasting, world travel, annual trips to Mexico, World War II history, reading, growing tulips, eating oysters, attending the Eureka symphony, and playing the trumpet are among the many pursuits he enjoyed. He was even known to sport a Scottish kilt proudly displaying the Morrison Clan tartan.
John loved the community and gave of himself to a number of organizations. He was the only remaining charter member and past president of the Rotary Club of Southwest Eureka and was a proud member of the Marine Corps League. In earlier years he served on the Humboldt County Air Pollution Control Hearing Board, the Humboldt County Legal Aid Service, Humboldt County Juvenile Justice Commission and Delinquency Prevention Commission, Mayor's Traffic Safety Committee, Citizens Advisory Committee to College of the Redwoods, and Humboldt Fire District No. 1. Over the years, he was actively involved in the Far West Motorcycle Club, Six Rivers Racing Assn., Redwood Flying Club, Humboldt Trap & Skeet Club, Ducks Unlimited, Redwood Art Assn., Humboldt Light Opera Company, Eureka Symphony, Ingomar Club, and the Calvary Lutheran Church.
He leaves behind a family forever grateful for his steadfast love and guidance. He is survived by his wife Beverly, his children Sharon Hunter (Bill), Andrée Johnson (Tim), and Marc Morrison (Sherri). Grandchildren Casey O'Day, Laurel Anderson (Adam), Clayton Hunter, Luke Scown (Caitlin), Emil Scown (Emily), Cole Scown (Jessica), Elaine Johnson (Ryan), Kelsie Tooley (Josh), Austin Terrell (Molly), and Isabella Grace Morrison. Great Grandchildren Kyle, Ellie, Jacob, Claire, Edward, Cayden, Carter and Callie. His brother James K. Morrison (Gay) and brother-in-law Roger Bauer (Lois). Nieces, nephews and their families Jennith Hoyt (Brett), Terry Mertens (Joe), Marty Loftis (Keith), Jamie Johnson (Brett), Tammy Krening, Teresa Lake (Tracy), Jennifer Garrison (Chad), and Rhett Bauer (Brigette). Cousins Peggy Morrison (Frank), Ani Nelson-Knight and Joel Morrison.
He is preceded in death by his parents, Marc and Elizabeth Morrison, brother Silas Morrison and wife Joyce, and nephew Silas Marc Morrison.
The family extends their thanks to the following people for the support they provided in recent months: Pastor Patricia Higgins and the Calvary Lutheran Church family, Dr. Jack Irvine, Dr. Leo Leer, Mad River Community Hospital Wound Center, Dr. Phillip Alway, Dr. Michael Fratkin, Hospice of Humboldt Chaplain Harry Wells, friend and nurse Carol Howard, dear friends Denise LaPointe and family, great-niece Jolene Hassenfritz.
The family held a private gathering. Due to COVID restrictions, a memorial celebration of John's life will be announced at a later date.
If you choose, please consider donating in his memory to:
Rotary Club of Southwest Eureka
PO Box 6054
Eureka, CA 95502
www.swrotary.org
###
The obituary above was submitted on behalf of John Morrison's loved ones. The Lost Coast Outpost runs obituaries of Humboldt County residents at no charge. See guidelines here.