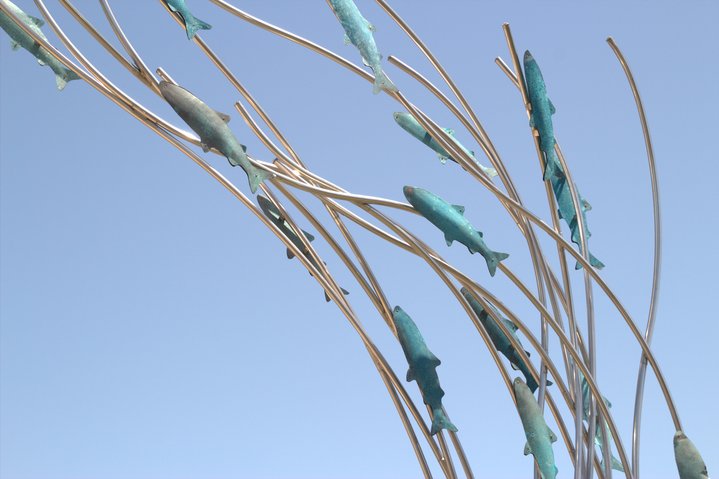 ##
Arcata's newest art installations in the Creamery District have specific, locational importance: they celebrate the Jolly Giant Creek and its ecosystem, and mark where its waters flow beneath our feet.
The new works include two permanent 14-foot sculptures created by James Hildebrandt and a mural painted by third- and fourth-grade students from Redwood Coast Montessori and Fieldbrook Elementary School via the Playhouse's Artists in Schools program. Located along the L Street bike path at Eighth and Ninth streets, the pieces were unveiled on Saturday at an outdoor event hosted by the Arcata Playhouse. A group of student artists presented their mural in its full form for the first time and attendees were serenaded by Bandemonium.
On close inspection, viewers see that the "Art and the Environment: Keeping the Giant Jolly" mural, mounted to the red fence along the bike path on L, is a collection of two-by-two slabs of wood, painted by individual students and pieced together to create one four-by-72-foot Jolly-Giant-and-its-inhabitants artistic experience.
The eight-week mural project was completed entirely over Zoom with direction from the Playhouse's Sarah McKinney, MacKenzie Ridgwood and Haley Davis. McKinney, who is education director at the Arcata Playhouse, told us on Saturday that her team consulted local experts to develop lessons about the creek and its inhabitants. "We spent the first two or three weeks just looking at pictures, talking about the stream, talking about where it goes through the town, how it dips beneath our feet, and that sometimes when we're walking around places we might not know that there's a stream underneath us," McKinney said.
After that, the team marked a general outline on the wood panels before distributing them to the young artists, who painted sections of their pieces lesson-by-lesson, with guidance from Artists in Schools. Students were invited to add local animals to their art, which they sure did. "It was really fun to watch the whole process and see the kids pick animals that would live in the different habitats," said MacKenzie Ridgwood, education assistant at the Playhouse.
Usually, Artists in Schools brings shadow puppetry and mask making and performing to K-8 students in a few participating local schools, but doing those projects over Zoom quickly proved to be too tricky a challenge. The team pivoted to bringing Arcata this project instead, and we are happy they did. Now, the fence on L's bike path — which has never been bestowed with art before — is adorned with young, environmentalist energy. Whoot!
A short ways down the path are Hildebrandt's two sculptures, named "Homeward Leaping!" Constructed primarily from stainless steel and copper — 65 percent of which was upcycled — the two sculptures stand directly over the creek and bend fluidly with the wind.
"A friend of mine and I were walking down the street one day and we're going, "you know, there's a creek under this road, and no one knows about it, really," Hildebrandt said of his inspiration for the pair of sculptures. A year and a half later, we can all see now where the Jolly Giant flows.
"So many people would be walking by while I was working and they would tell me, 'We used to drink water from this creek! We used to catch fish and eel in it!' You know, back in the '60s and '70s," Hildebrandt said. "The community's been wonderful."