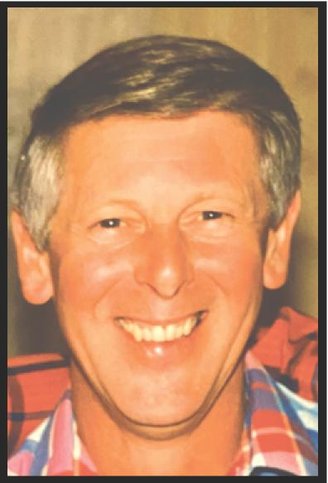 Mike Robershotte passed away at his home in Bayside on March 19, 2021. He was 78 years old. Mike was born in Arcata to Carolyn (Haley) and Clinton Robershotte on January 22, 1943. He attended Eureka City schools through Jr. High. Mike graduated from Arcata High School in 1961 and went on to Laney College in Oakland, CA, where he completed the Diesel Mechanics program in 1965.

As a youngster in Eureka, Mike was active in the Pegasus Patrol. He and his devoted horse, Rusty, participated in gymkhanas and youth rodeos at the local, regional, and state level, earning countless awards. Mike moved to the Angel Ranch in 1958 when his mother married Clarence Bugenig. There his love for all things "ranch" blossomed and influenced his lifelong interest in livestock, especially sheep. He was a member of the Arcata High Future Farmers of America and participated in many local fairs.
Mike met Jinnie (Holm), his wife of 56 years, on the Arcata High school bus at "the fork in the road" between the Dollar Ranch and the Angel Ranch. They married in 1965. Mike and Jinnie have two children, Michael and Angela. Mike actively supported Michael and Angela's years as Bayside 4H and Arcata High FFA members, assist-ing with their livestock projects and various fair activities.
In addition to being a member of the Humboldt County Woolgrower's Association, Mike, as a young man, was an active member of the Arcata Jay Cees. He had many fond memories and great stories of dressing the statue of McKinley on the Arcata plaza every Christmas season and of coloring a hundred dozen eggs each Easter for the egg hunt that was held at the ballpark. Cherished lifetime friendships were made.
Beginning in the early seventies Mike and family traveled to "The Lake" every weekend from July 4th to Labor Day. Initially camping at Pinewood Cove and eventually aboard La Bella Mia, these times were the most anticipated of Mike's year. Other favorites included Sunday dinners where he is famous for repeating the same sorry old stories and jokes to all who gathered on a regular basis, spending time with the grandchildren, and Jinnie and Mike's annual vacation with "The Houseboat Crew". These trips have continued for nearly fifty years and counting, crisscrossing the western US, Mexico, and Canada.
Mike especially enjoyed times spent with his brother-in-law, Sonny. Whether as teenagers riding around in Sonny's old jeep, working cattle, camping, boating, sitting around the fire, or just shooting the breeze, they were content to be together, as they are once again, ghost riders in the sky.
Mike was employed with the County of Humboldt prior to starting work for Simpson Timber Company. He retired from Green Diamond after more than thirty years of service.
Mike was preceded in death by his parents Clinton Robershotte and Carolyn and Clarence Bugenig, his grandparents, Nellie and Ray Haley, his mother-in-law and father-in-law, Wilda and Harvey Holm, and his brother-in-law, Paul "Sonny" Holm. Mike is survived by his wife, Jinnie, son, Michael (Jessica Emerson) Robershotte, granddaughters Vanessa and Danielle, daughter Angela Robershotte, grandsons Anthony and Andrew, sister, Cindy (Mike) Jeffress, niece Lindsay (Shane) Green, Elisha, Avery, Allie, nephew, Seth (Kristin) Magnuson, Zariah, Kyden, sister-in-law, Calisa Holm, niece, Kassi (Ryan) Robinson, Henry, Haylen, nephew, Harvey Holm and son, Sonny, and uncountable beloved friends.
A celebration of Mike's life will be held at a later time when it will be safer for us to gather.
###
The obituary above was submitted on behalf of Mike Robershotte's loved ones. The Lost Coast Outpost runs obituaries of Humboldt County residents at no charge. See guidelines here.