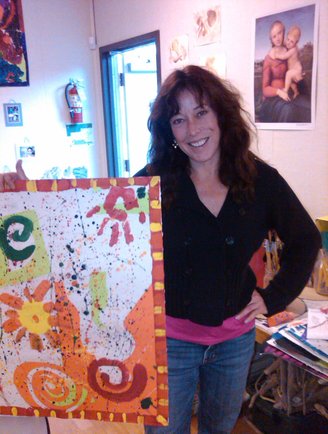 Rhonda transitioned from this life on March 22, 2021, after a battle with cancer. She passed at home in Big Lagoon with family by her side.

She grew up in Stuart, Florida, graduating from high school there. She spent much of her adult life in Dayton, Ohio, where she earned her Bachelors Degree in Art Education, and Master's in Fine Arts from the prestigious University of Dayton. She moved to Humboldt County in 2006.
Rhonda worked as an art teacher for much of her life. She taught at the Big Lagoon School and at Dows Prairie Elementary. Many were blessed to experience her creative energies and guidance. Herself, being a talented and accomplished artist and photographer, surprising many who didn't know the depth of her talents. Rhonda did not keep her creative abilities a secret, but neither did she brag about them.
She was a natural leader. She had a confidence of status, and plain old "know-how." These skills forged a space for others to follow. She encouraged us to learn something new and to stretch beyond our comfort level. She was fearless and welcomed any new challenge with enthusiasm. She was a lifelong tennis player and loved to be out on the court, making friends along the way.
Rhonda loved most of all to travel. She had traveled from an early age, playing tennis in France, backpacking in Italy, living briefly in Hawaii. She had so many adventures around the world in her life that included Australia, New Zealand, The Cook Islands, Bahamas, Jamaica, Mexico and Russia.
She conceived of a mermaid to be her token representation of self, and collected many works with this image. Mermaids are often depicted with buried treasure. Strangely, treasure rose from the depths, and from every corner of the planet to pass through Rhonda's hands, like a divine guardianship of things buried and brought back to life. These gifts resulted in a partnership with Humboldt Flea Market, and evolved into creating her own business, Foreman Estate Services, Unusual, beautiful items, once loved and cherished, passed on with Rhonda as the agent of their renewed guardianship.
It cannot go unsaid that Rhonda fiercely loved her family, friends and her dog Addie. She loved nature and gardening with that same enormous spirit. Rhonda was a lover of life. She believed in the possibility to make things happen, without limitations. To find Rhonda now, to plane the connection to her…see the beauty in your own life, and live everyday to the fullest. The rain you smell, the sunset on the horizon, the lightening bugs on a hot Ohio summer night, cool grass on bare feet…. that's where she is now.
Rhonda Lynn Foreman was born to Ronald and Doris Foreman, in Knoxville Tennessee, on Jan 22, 1962. She is survived by her mother Doris White, and brothers Randall and Ryan Foreman, sister in law Barbara Foreman, and her beloved daughter Rachael Cook. Rhonda was very loved, it has been said by many that she never met a stranger. She loved to connect with people from all walks of life.
Writer Jac Schaeffer said of grief, "We need a new definition of grief that is hopeful. Grief isn't all bad, it isn't all sorrow. Grief is born of beauty, and of deep love. What is grief, if not the perseverance of love"?
Donations can be sent in Rhonda's honor to the Humboldt Wildlife Care Center or Friends of the Dunes.
###
The obituary above was submitted on behalf of Rhonda Foreman's loved ones. The Lost Coast Outpost runs obituaries of Humboldt County residents at no charge. See guidelines here.