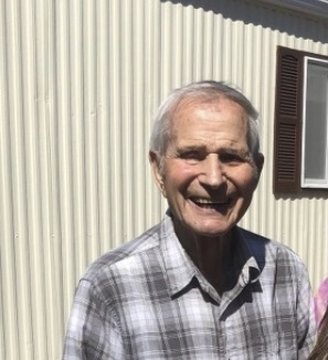 Angelo John Bettiga was born June 16, 1925. He passed away May 11, 2021 at the age of 95. He was an active member of St. Joseph Catholic Church.

He attended Ferndale Schools. A few weeks before graduating high school, Angelo was drafted into the army where he served as a paratrooper in World War II stationed in France.
After two years in the army, Angelo came back to Ferndale and started working for the Pacific Lumber Company in Scotia as a spotter and a monorail operator. While still working for the mill, Angelo bought an old fashion sweet shop in Ferndale. Angelo stayed busy with two jobs for many years.
Angelo went out on his first date with his wife Winnie on New Years Eve of 1950. They were then engaged in April on Easter and married in September of 1951.
Angelo and Winnie moved to Scotia in 1959 with their two children and later had their third child. They resided in Scotia for many years and took pride in their yard while winning prizes from the Scotia yard contest. Before his retirement Angelo became the head gardener of Scotia.
Angelo also built a summer home in Lake County where all of his family and friends enjoyed it.
Angelo then retired in 1989 and moved to Fortuna. During retirement Angelo enjoyed walking, working in his yard, traveling with his wife Winnie on bus trips, going to McDonald's to have coffee, and enjoying getting a hot dog at the casino with family and friends.
Angelo was a proud family man. He always said his greatest accomplishment was his family. Angelo supported them in all of their activities including ball games, the fair and school events.
He enjoyed life to the fullest and enjoyed being with his family and friends. He always had a "twinkle" in his eyes and a smile for everyone. He never knew a stranger and made friends everywhere he went. Angelo was always there to offer an extra hand to anyone in need.
He was a wonderful son, father, husband, brother, and uncle to his family and he will be missed by all.
He is survived by his wife, Winnie, and children Milissa Nunes, Kevin Bettiga (Elaine), and Lori Coppini (Tim). He is survived by his grandchildren Troy, Brad Renner, Brooke Renner, Brett Renner, and several step-grandchildren. He is survived by his one great-grandchild Nyah. He is survived by many nieces and nephews. He is survived by many great friends including Ronnie, Greg, Darin, Shirley, Betty, Marie, Gary, Jackie, the extended Carl Renner family, and his K-9 friend Bandit.
He was preceded in death by his father Emelio and mother Mary, as well as his siblings Gloria Nordhues (Al), Charlie Bettiga (Kay), Amelia Hudson (Kenny), and Floyd Bettiga, his son in-laws Jerry Renner and Dwight Nunes, and his good friend Leno.
He was laid to rest surrounded by his immediate family at Ocean View Cemetery on May 17, 2021.
In lieu of flowers, the Angelo Bettiga family asks for you to say hello to a stranger or lend out a helping hand to someone in need. Your friends always need extra prayers.
###
The obituary above was submitted on behalf of Angelo Bettiga's loved ones. The Lost Coast Outpost runs obituaries of Humboldt County residents at no charge. See guidelines here.