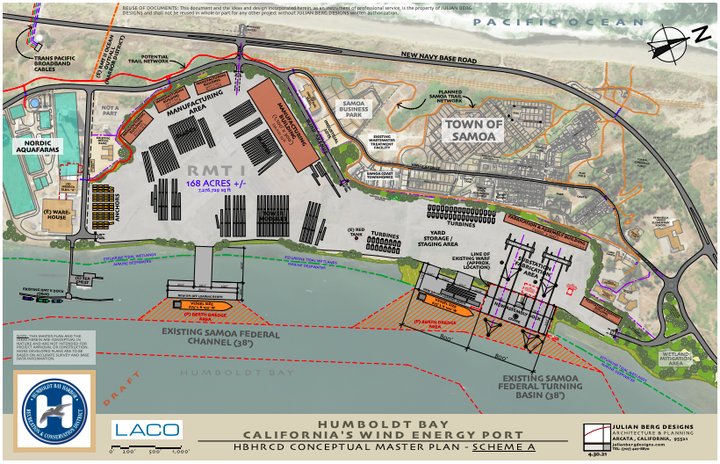 ###
Is the Port of Humboldt Bay about to become a major development site for the emerging offshore wind industry on the West Coast? Sounds pretty likely, according to this press release from the Humboldt Bay Harbor, Recreation and Conservation District:
The Port of Humboldt Bay, managed by the Humboldt Bay Harbor Recreation and Conservation District, will be recipient of $11 million to be used as matching funds for a $55 million Port Infrastructure Development Program grant application which is due on July 30th.

The funding still require approval by the legislature and will be provided by the California Energy Commission to assist the Port with significant upgrades required to support the emerging offshore wind industry off the West Coast.

The Harbor District has completed a phased master plan for the entire 168-acre shoreline area between the Samoa Cookhouse and the former pulp mill where Nordic Aquafarms and the new broadband cables will land.

Harbor District Executive Director, Larry Oetker said that with the help of the Headwater Fund, "the first part of the project will be to receive input from the tribes, public, industry, and regulatory agencies on the conceptual master so that we can revise the plan to minimize the impacts and make the plan better. Once the plan is finalized, an environmental impact report under CEQA will be prepared, made available for public review, and applications submitted to the Coastal Commission and other regulatory agencies."

As part of the initial phase of the project, the existing 6-acre Redwood Marine Terminal I would be completely replaced with a new modern heavy-lift terminal, and eel grass and other impacts would be mitigated.

The terminal will be all electric and the terminal and shoreline would be designed for the projected 2100 sea level rise elevation. Once developed, the facilities on Humboldt Bay can be utilized to construct/ assemble offshore wind turbines and associated components to tow them to other offshore locations on the West Coast.

Coastal Humboldt County has world-class offshore wind resources and the Samoa Peninsula has vacant and under-utilized Coastal Dependent Industrial lands that are perfectly situated to support the operations necessary to assemble, deploy, repair and maintain wind energy turbines.

The master plan outlines as a future phase, a new 500,000 [square foot] manufacturing complex specifically designed to support the emerging West Coast offshore wind industry. This complex includes 300,000 square feet for a wind tower fabrication facility where highly skilled workers would take five-inch-thick, American-made steel and transform it into wind towers and floating foundations similar to what is done in the Port of Rotterdam, Netherlands, for Europe and is currently under construction in the Port of Paulsboro, New Jersey, for the East Coast offshore wind industry.

Harbor District President Stephen Kullmann said, "Humboldt Bay is the ideal choice for the West Coast Offshore Wind Energy Port. I am happy to see the state support Humboldt Bay with port development funding, which will not only help revitalize the harbor and bring jobs and economic development to the community, but also help California meet its ambitious renewable energy targets and all of us address the threat of global climate change."

Humboldt Bay is perfectly positioned as the closest offshore wind turbine assembly facility and deployment port to the proposed Bureau of Ocean Energy Management (BOEM) north coast lease areas which are proposed to be 30 miles off Humboldt Bay.

Humboldt Bay has been identified as the West Coast's most viable site for final assembly of offshore turbines. This port has deep-water access with no bridge restrictions and hundreds of acres of empty, available dockside land at the site of pulp and lumber mills that were abandoned when the region's forest industry collapsed in the 1990s. Humboldt Bay's deep draft shipping channels can accommodate the large marine vessels carrying wind turbine components, but the upland facilities must be significantly renovated to allow heavy cranes to assemble the floating platforms.

On March 29, 2021, President Biden announced his initiative to Jumpstarts Offshore Wind Energy Projects to Create Jobs. As part of this initiative, the Administration established a goal of 30 GW of offshore wind off the US by 2030. The Administration issued an Executive Order that calls on our nation to build a new American infrastructure and clean energy economy that will create millions of new jobs.

Governor Newsom's California Comeback, California Climate Action Plan, and AB 525 all outline an ambitious agenda to combat global warming, cut greenhouse gas emission, and increase renewable sources of energy such as offshore wind.

By meeting our electricity needs through clean, pollution-free offshore wind energy, California can also deliver vital air quality improvements in frontline communities. About 78% of California's gas power plants reside in communities identified by CalEPA as having the state's highest burden of poverty and cumulative environmental health burdens.

The aquaculture, broadband, offshore wind, and other maritime industries are clean, green, modern, and coastal dependent. Executive Director Oetker said that: "the Harbor District and our partners have been working for years to find coastal dependent industries that are a good fit for our region; provide good paying jobs for our community; result in a healthy planet, and hopefully will encourage some of our kids to return back to Humboldt County to raise their families."

The Harbor District would like to thank Governor Newsom, California Energy Commission, Humboldt County, Redwood Coast Energy Authority, and HSU Schatz Energy for your leadership roles in helping to bring this new industry to Humboldt Bay.