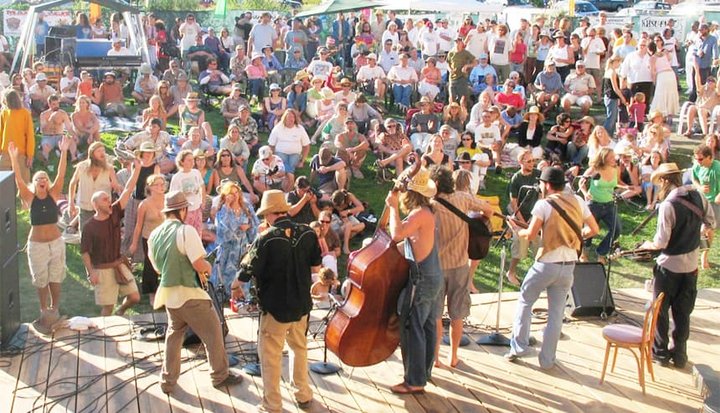 ###

After a year without live theater or festivals, Humboldt folks can now look forward to the return of a beloved community tradition that celebrates both. Dell'Arte recently announced that the Mad River Festival will be back this summer, but with a new identity.

"Dell'Arte International is producing the five-day-and-night outdoor Baduwa't Festival this summer, featuring live theatre acts, music and speakers," Dell'Arte announced in a press release last week. "Formerly known as the Mad River Festival, Dell'Arte is partnering with the Wiyot Tribe, Circus Nonsense and other community partners and artists to reimagine and remember what a gathering of the people can be."

The decision to rename the festival to Baduwa't — the Wiyot word for the Mad River — is something that Dell'Arte has been thinking about for several years, Elisabeth Colón Nelson, a member of Dell'Arte's Collective Leadership Council, told the Outpost in a recent phone interview. When the leadership council began seriously discussing bringing back the festival this year, the members thought it was the appropriate time to re-emerge with the Wiyot name.
"When we were talking about bringing the festival back, our production team was asking questions like, 'If we can do that, what's our intention?'" Nelson said. "As we're coming back and acknowledging the deep change we've all gone through this last year, our intention is to celebrate the community and this beautiful place. And this place is Wiyot land."

The decision to give the festival the Baduwa't name was approved by the Wiyot Tribe and is the latest collaboration in a years-long partnership between the tribe and Dell'Arte, which has included collaborations on youth theater programs and on the Bartow Project — a project investigating the life and work of Wiyot artist Rick Bartow.

Wiyot Tribal Chair Ted Hernandez told the Outpost that he is happy about the name change, which is helping to promote the tribe's efforts to promote more usage of the Wiyot language, Soulatluk. "We are all sitting on Wiyot land, so it is important to know the Wiyot words for the places here," Hernandez said.

Hernandez also said that there will likely be much more involvement from the tribe in the Baduwa't festival, but what that will look like will be greatly dependent on the state of the pandemic. Hernandez added that, although renaming places and events can sometimes be an empty gesture, he does not feel that this is the case with Dell'Arte and that the organization has made a great effort to work with the Wiyot tribe and to serve the tribal community.

"Dell'Arte and the Wiyot Tribe have a true partnership," Hernandez said. "It's not something that they're just going to pat themselves on the back over."

The new name is not the only way the festival will change this year. Due to COVID, the event will be held entirely outdoors, with limited capacity and reserved tickets will be required for all events. Attendees and participants will also be required to provide either proof of being fully vaccinated or a negative COVID-19 test for admission.

The Baduwa't Festival will also be quite a bit shorter than previous years, taking place over five days (July 14-18), instead of the months of scattered events that usually take over the town of Blue Lake throughout the summer.

"We're trying to ease back into live performance," Maricela Aceves Wexler, also of Dell'Arte's Collective Leadership Council, told the Outpost, adding that Dell'Arte hopes to build the festival back up in the coming years. "It's a little prototype for the renewal."

Not everything will be different about the festival, however, with some familiar favorites returning this summer, including performers from the Red Light Cabaret and music from the Dell'Arte House Band. This year's lineup also includes Circus Nonsense and the youth ambassadors from Two Feathers Native American Family Services.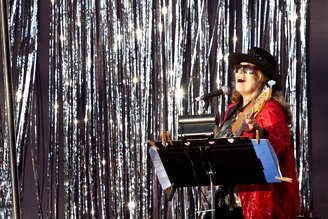 Wexler and Nelson said that a more detailed lineup will be released soon, adding that things are moving a little bit more slowly than usual because of COVID. In addition to working more closely with the Wiyot Tribe, they said, Dell'Arte is also reaching out to other local organizations and community members to try to be more inclusive and include more Black, Indigenous and people of color's voices.

Nelson acknowledged that Dell'Arte has been especially focused on promoting racial equity and inclusion since a group of previous and current staff members called out the organization on social media for its treatment of people of color.

"Dell'Arte as an organization continues to be grateful to those nine folks who came out and said 'we see this,'" Nelson said. "It's our responsibility as leaders here and an arts organization to step forward and make a more racially equitable place."
The Baduwa't Festival will take place in Dadiqhoughuk (the Wiyot name for Blue Lake) on July 14-18. More information will soon be available on Dell'Arte's website.