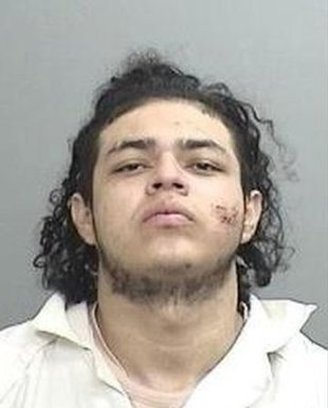 One of two men who invaded and robbed a Southern Humboldt home, terrorizing a father and his daughter, was sentenced this morning to nine years in state prison. Franklin Antonio Molina received the sentence as part of a negotiated deal, with Judge Kaleb Cockrum imposing six years for robbery and three years for a special weapons allegation. Molina also was sentenced for false imprisonment, assault with a firearm and making criminal threats, but those terms will run concurrently with the nine years.
In December 2018 shortly before Christmas, Molina and another man showed up at Adam Owen's rural residence about an hour's drive from Garberville. They wore ski masks, brandished guns and demanded money.
Before the terrifying episode was over for Owen and his 23-year-old daughter, Owen had been robbed of numerous guns and $30,000 in cash. He had been tied up, hit repeatedly on the head with a gun, pushed down a flight of stairs and locked in a closet with his daughter.
Molina's alleged accomplice then took off in the vehicle they came in, and Molina stole Owen's GMC Denali truck and fled. He was arrested during a standoff with law enforcement in Mendocino County.
The other man escaped with the stolen property and was never caught.
Molina, a 23-year-old native of El Salvador, waived all custody credits up to April 16, meaning a total of 846 days. He received credit for 42 actual days and six days "good-time" days served since April 16. He also waived his right to appeal.
Deputy Public Defender Casey Russo represented Molina, with Deputy District Attorney Trent Timm in court for the prosecution.
Spanish interpreter Ariana Rayburn interpreted the hearing today for Molina.
PREVIOUSLY